Lets start this article off by clearing up a bit of confusion we sometimes hear about when it comes to hooded hairdryers. Some folk hear them being called bonnet hairdryers and think it is just another name for them. This is not the case. Hood hairdryers and bonnet hairdryers are similar but different things. The hood hairdryer is plastic and comes in a few different forms where as the bonnet hairdryer is just a material you attach to your normal hairdryer to use.
In terms of the bonnet hairdryer attachment, they are pretty much all the same. They are also cheaply priced so it would be pointless reviewing different ones etc. We will instead be focusing on the hooded hairdryers for this article. To purchase a bonnet hairdryer check the price here .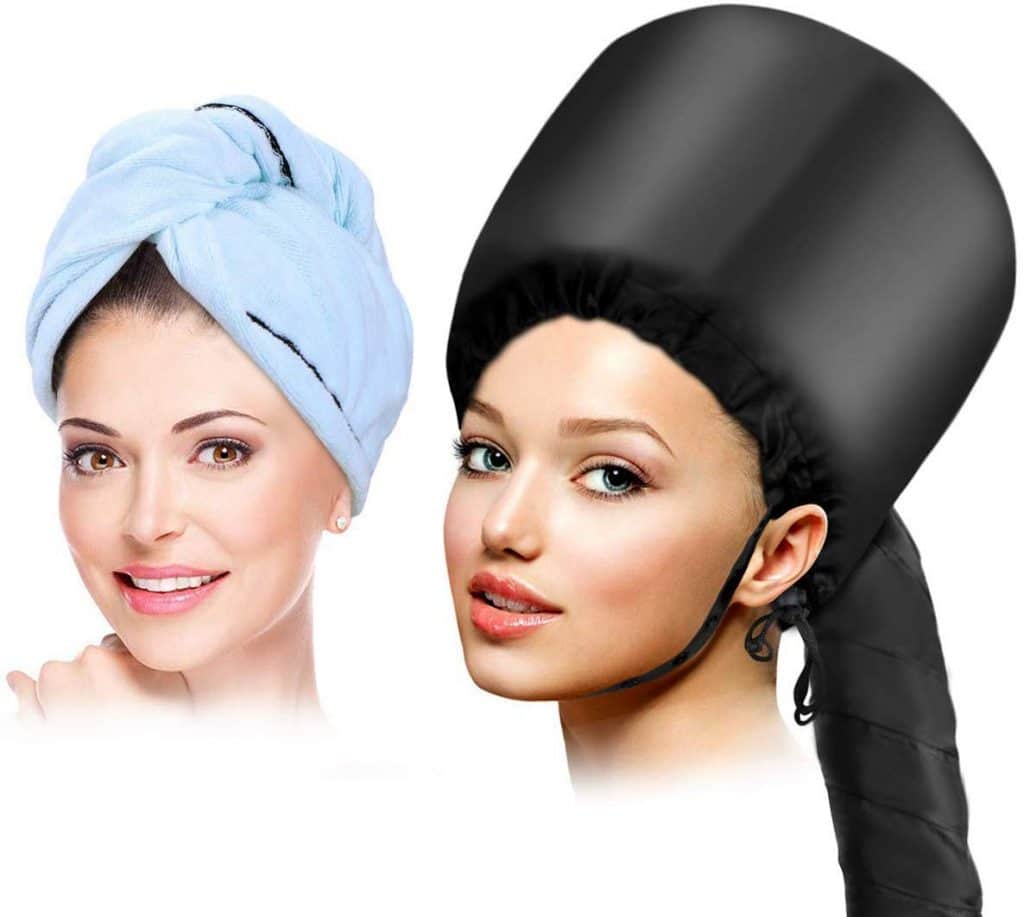 Hooded hairdryer with blue towel
When we think about hairdryer hoods we instantly think back to the old days when loads of women would be sitting in a salon gossiping whilst having these big plastic helmet things on their heads. The advancements of home hairdryers put an end to that but something has happened that has seen a resurgence recently. If you didn't know, a while back Lady Gaga put a picture of herself using a bonnet hairdryer on Instagram. This inevitably led to more awareness and sales. Guessing a lot of people didn't realise you could buy them for their home so easily. Seems like the perfect time for us to jump in and find out what all the fuss is about.
So the biggest benefits of a hooded hairdryer are its very gentle. Where as a hairdryer blasts the hair with air, the hooded types just circulate air around your hair. You also do not have to do anything when using them and could read a book or mess around with your phone whilst it dries. They also come with different features like Ionic or Ceramic. The biggest downside to hooded hairdryers is the length of time it will take to dry your hair. It will take much longer than using a hand held hairdryer. They also take up more space due to their size. You cant just throw them into your bottom drawer. They can also be very expensive but we will try pick reasonably priced items. What we will be looking for is pretty much the same as a normal hairdryer. You want to have different settings for heat. Low heat for fine hair and higher heat for thick coarse hair.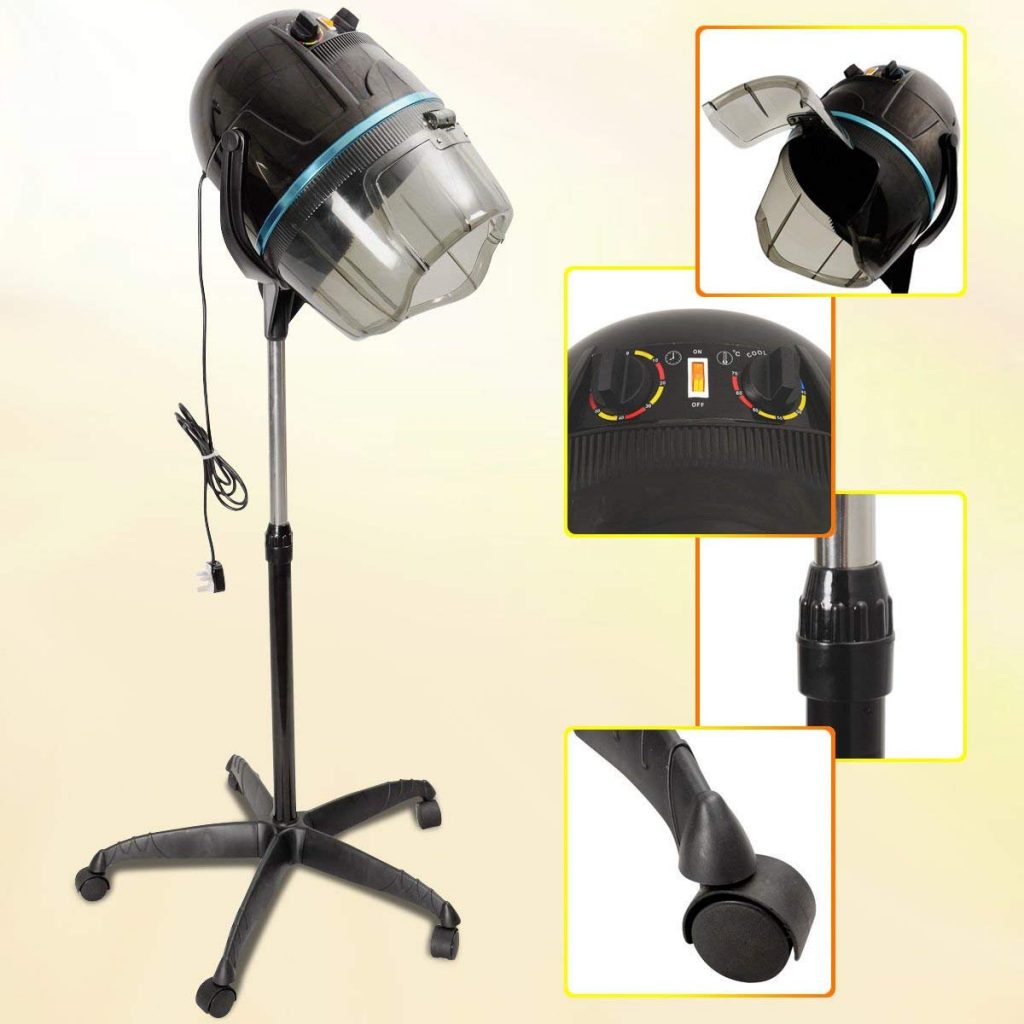 Costway Premium ABS Hooded Hairdryer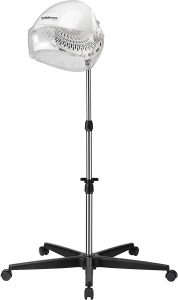 Babyliss Pro Ionic Hooded Hairdryer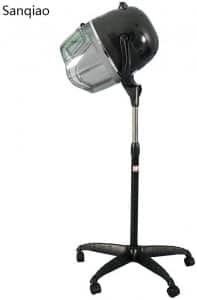 Sanqiao Portable Professional Hooded Hairdryer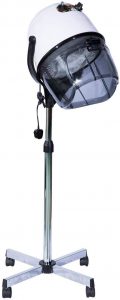 Homcom Professional Portable Hooded Hairdryer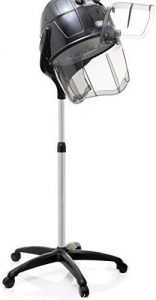 Aphrodite Professional Salon Hooded Hairdryer
Hooded Hairdryers Reviews
Costway Premium ABS Hooded Hairdryer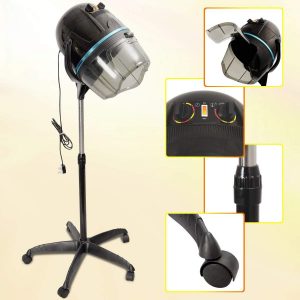 Lets kick things off with this solid dryer from Costway. On the surface it certainly ticks all the boxes and looks the part.
So this hooded hairdryer comes in the black you see in the image above or you can get it in white for one pound cheaper ( why? ). Features are:
Height adjustable from 120 – 160cm
Temperature adjustable from 40℃ to 75℃
Timer setting between 0 to 60 minutes
1300w motor
Low noise design
Costway say it is suitable for salon and home use. The price jumps around the £100 mark and this is considered cheap for this type of product.
What we liked about the Costway Hooded
Considering this is what we consider towards the cheap price for these products we were quietly surprised with this. It is ideal for home use and really good if you think of it for an older person who struggles to hold a normal hairdryer. The plastic hood is sturdy and feels quality. 
What we did not like about the Costway Hooded
Although the stand is good enough to do the job at home we are not convinced its sturdy enough for heavy everyday use. We have seen some folk say they use it in their salon but we could imagine something breaking with heavy long term use. Although it is easy enough to put together, we wouldn't recommend for mobile salon use either. Setting this up and then taking it back down a few times a day isnt very practical. As we said though, its a low end hooded hairdryer and if you remember that you will be happy with the purchase.
Babyliss Pro Ionic Hooded Hairdryer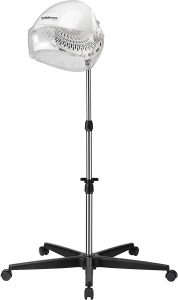 As soon as we see the name Babyliss we tend to think quality in this industry. Can they hit it out the park when it comes to their hooded hairdryer entry?. Lets find out.
So straight away we can see this is an Ionic hooded dryer so it should be great for folk with frizzy hair. It also has a built in adjustable diffuser which is a nice feature to have. Other things:
2000w motor
3 heat & 2 speed settings
 2.7m power cable
Lockable wheels
Certainly looks the part so lets see how it is in the real world.
What we liked about the Babyliss Pro Ionic Hooded Hairdryer
So there is a lot to like about this Babyliss hooded hairdryer. Its a solid product and the Ionic technology leaves hair with a great smooth frizz free finish. Its got all the heat and speed setting you will need plus you do not have to worry about where to put it as the 2.7 meter power cable is plenty. Its also fairly easy to put together and dismantle. If the stand length we speak about below is no issue for you then its a great product. Also hovers just above the £100 price mark which is good.
What we did not like about the Babyliss Pro Ionic Hooded Hairdryer
So we have to start with the base of this thing as it is pretty bulky. Babyliss have went with 5 feet instead of the standard 4 feet you see on most hood dryers. They are also rather long. From wheel to wheel it measures 92cm. We are guessing Babyliss went with this stand to give the product a more stable feel as some hooded hairdryers do feel rather flimsy. This has created its own problems though as a lot of people may not have that space in their home or salon. Also creates a problem if your mobile as you can imagine. Bigger boot space anyone?
Sanqiao Salon Pro Hooded Hairdryer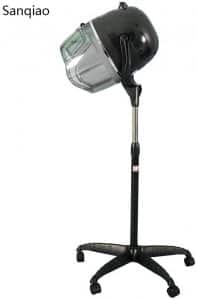 So we can honestly say we have never heard of Sanqiao. We have included it because it is cheap and seems to have a lot of reviews over on good old Amazon.
Although it has 5 feet like the Babyliss above, it measures 70cm wheel to wheel instead of the 92cm from Babyliss so its not an issue here. Product specs:
0-60 minutes timer
Heat adjustable from 30-70 degrees
Height adjustable from 140-180cm
 950w motor.
 Lets see how it reviewed.
What we liked about the Sanqiao Salon Pro Hooded Hairdryer
Im sitting here trying to think of a word that means cheaper than cheap. Dirt cheap?. Cheapy te cheap cheap?. Cheaponga?. Anyway the price of this comes in at quite a bit under the £100 we classed as cheap for these type of products. As with the Costway above we are pretty surprised with the good quality of this. It ticks all the boxes, feels sturdy enough and was pretty simple to assemble.
What we did not like about the Sanqiao Salon Pro Hooded Hairdryer
So a couple of things on the negative side. The power cable is only 1.5 metres so keep this in mind when you plan out where you are going to use it. The 950w of power could be problematic for some. Sure its gonna take a bit longer to dry your hair but at this price we knew they would have to make some sacrifices. Did we mention its cheap?
HOMCOM Portable Salon Hooded Hairdryer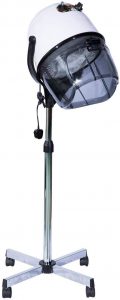 So here we have this tidy looking dryer from Homcom. No messing around here, lets get straight to it.
So HOMCOM state this hooded hairdryer is great for home and salon use. Bold claims for a product that comes in at under our £100 cheap baseline. Full features:
1180w motor
Temperature adjustable between 20-75 degrees
Height adjustable between 115-165cm
Timer between 10-60 minutes
As you can see in the image the feet are also small and compact so no issues there.
What we liked about the HOMCOM Portable Salon Hooded Hairdryer
We like a lot of things with this dryer. The small feet and ease to move around. The various adjustable settings for heat & height etc are decent. The 1180w of power does the job fine and doesn't feel under powered. Because of the small feet and ease to assemble & disassemble, it would do the job well for anyone who plans to use it in a mobile capacity.
What we did not like about the HOMCOM Portable Salon Hooded Hairdryer
Like the other hooded dryers we looked at, we wonder how long this product would last with heavy everyday use. We wouldn't call it flimsy but at the same time we wouldn't call it rock solid either. I guess it comes down to what your usage plans are gonna be for it. At under £100 its surely worth the risk though?
Aphrodite Pro Salon Hooded Hairdryer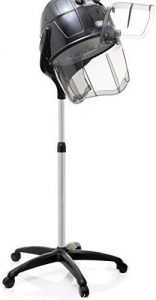 So at the start of the article we said we would be looking at products that we considered to be at the cheaper range of around £100. Turns out that was erm, just a small little lie. The Aphrodite hooded dryer comes in around £200-£300 but hear us out. We would put a product in this category into the mid range price bracket. If you have been looking around for a hooded hairdryer you will have seen some go all the way up to £600 or more. We wanted to stick to cheap but this has caught our eye.
The big selling point Aphrodite are pushing with this hooded hairdryer is that it is built for heavy long term use. Full features are:
1000w power
Timer & temperature adjustable
Height adjustable
They state it is perfect for a busy salon and is built to last.
The big selling point Aphrodite are pushing with this hooded hairdryer is that it is built for long term heavy use. Full features are:
1000w power
Timer & temperature adjustable
Height adjustable
They state it is perfect for a busy salon and is built to last.
What we like about the Aphrodite Pro Salon Hooded Hairdryer
You would be forgiven for looking at the Aphrodite hooded hairdryer and wondering why it is priced 2-3 times higher than the other ones we have listed. Only a 1000w motor. Time, temperature and height adjustable. Hang on a minute didn't every one listed above have these?. There is a big difference in the Aphrodite though. THE FEEL. Seriously though this is a quality product and you can feel the difference when you start using it. We mentioned with some of the other dryers that we couldn't predict if they would stand the test of time. The Aphrodite is sturdy and built to last a long time. Even the knobs you use to set the timer etc feel better. This would be an excellent hooded dryer for home, salon or mobile salon.
What we did not like about the Aphrodite Pro Salon Hooded Hairdryer
The only negative we can mention is in regard to the price. Similar to the situation folk have had with the handheld Dyson Supersonic hairdryer. It all comes down to whether YOU are willing to plunk down more of your cash for something that is higher quality. Only you will know that.
So as is the norm with this type of thing we do not just go "product xxx" is the winner and leave it at that. Let us explain. If you are not willing to pay the much higher price of the Aphrodite then lets look at the other 4 products. We would say the Babyliss is the best out of the 4. Problem is the long base stand is big issue for most people. If it is not a problem for you go with the Babyliss for sure. If you do not have that kind of space then you are left with the choice of the Costway, Sanqaio or Foxcon. These 3 dryers are very similar. If we were to pick one of these dryers it would be the Foxcon. It was the cheapest and its just a better all round purchase than the other 2.
As we always do on this site though, it comes down to the question of "if someone now sat these 5 products on a table and told you that you could only take one home, which product would it be?". The Aphrodite would win every time cause its the best quality product.