The amount of hairdryers you can purchase nowadays is crazy. More accurately its confusing. First you have got to set your budget, then try figure out what exactly you should be looking for in a hairdryer that will compliment your hair style. Once you have one you think fits the bill, you then go read reviews and find out a deal breaking negative. Then you start the search again.
Being honest though the good point is that someone has already pointed out that deal breaking negative. Its much worse finding the negative after your purchase and your standing with the product in your hand. Then you have to go through the hassle of returning the item. This is why we read reviews though. This is a full in depth review of the GHD Air and we hope it gives you the knowledge on whether or not to go ahead with the purchase.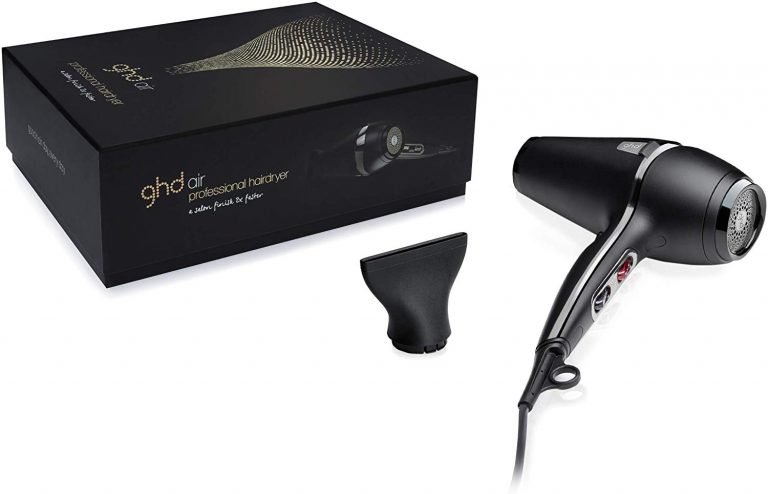 Good hair day or GHD as most of us will know them are a hair product specialist based in Leeds, England. They were founded by the Jamella Group in 2001. Within 2 years the company had £12 million in sales without even doing any advertising. They literally grew via word of mouth. Thats what quality products can do. In 2004 they launched in American markets and their sales reached £37 million. In 2006 they sold the company to Lloyd's Development Capital for a cool £55 million. Lloyd's then sold the company to Montagu Private Equity for £160 million. Thats a rather nice £105 million profit for under a years work. Montagu then sold it on to Lion Capital, a British based private equity firm for £300 million in 2013. It was then purchased by its current owners COTY inc for £420 million in 2016. Even with all these owner changes though the company has consistently released quality products.
When most people think of GHD they instantly think of Straighteners rather than anything else. They do release other things like brushes and hairdryers though. There newest hair dryer is the GHD Helios. This older GHD Air was released in 2012 so its 7 years old at the time of writing this article. Despite this it is still one of the UKs biggest selling hairdryers year after year. Are people buying this just because of the GHD brand name or does it still justify all those sales?. Lets find out. 
When GHD released the air back in 2012 they made some serious statements. They said this dryer provided salon quality results with fast drying times. Judging by the amount of units sold we guess consumers thought they were correct. As well as people buying them for their homes, they were also used by professional stylists in salons up and down the country. You can still see them being used in salons today even 7 years after they were first released. Price wise it is a bit higher than what we consider a standard hairdryer to be.
So there is a good tip we would like to share here. When you buy the standard GHD air you receive the hairdryer and nozzle in a nice black box. For an extra £15 though you can purchase the GHD air professional drying kit set. Unless you do not require any of the extra items included in this set we honestly think it is much better value for money. So in the set you also receive a diffuser, x2 sectioning clips, the GHD radial brush and a storage bag. When you consider the fact that buying just the diffuser separately it would cost you the £15. To get the diffuser, clips, brush and storage bag included in this set for the £15, you can see why we are recommending it. You can check out both products below to see what we mean.
As you can imagine with a product from GHD, the GHD air boasts a ton of features you would expect from a hairdryer at the higher end of the price bracket. Lets list them all:
Professional salon quality 2100w motor for x2 faster drying
GHD Ionic Technology
2 speed & 2 heat settings plus cool button
 3 meter long power cable
Noise reducing technology for a quieter blow dry
Ergonomic design for comfort when holding
1 year product warranty
So it certainly ticks a lot of the boxes in what most people would be looking for in a good hair dryer.
It really is hard to believe the GHD Air hairdryer was released in 2012. From the moment you take it out of the box you can feel its quality. Its got that sturdy feel but it is not overly heavy. GHD get the weight balance spot on with the Air. The hairdryer on its own weighs around the 600 grams range. It comes in a sleek black matte and metallic silver finish though you can get it in other colours that we talk about below. Its an elegant looking product and most people will be happy with its appearance and feel.
One area the GHD Air really excels is its 2100w motor. Sure, other hairdryers have more power in them these days but the air still packs a punch. GHDs claim to literally half your hairs drying time still rings true today. You can feel the power when using it which is always a good thing as there is nothing worse than an under powered hairdryer. For the amount of power it produces it really is a smart piece of engineering keeping it so quiet. When it released in 2012 the GHD Air set the standard for noise reduction in a hairdryer. Even by today's standards its still amazing.
Having a 3 meter cable also makes a massive difference when you can pretty much use it anywhere in a room. We also found the Ionic technology works great and hair had a smooth and frizz free finish. We do think it should come with more than one nozzle though and its something GHD should look at if they wanna maintain this as one of the highest selling hairdryers in the UK.
Design wise the heat and speed buttons are comfy enough to use but the cool shot button is right under the barrel and is somewhat awkward to use. You get used to it but it does feel weird at first. Most of the more recent high end hairdryers released in the past few years have 3 speed and 3 heat settings. The GHD Air only comes with 2. Only you will know if this is going to be a deal breaker for you. 
Even 7 years after its release we still say the GHD Air is one of the best high end hairdryers available today. It looks and feels amazing to use. Its powerful at drying your hair quickly but also very quiet in doing so. When the hairdryer released in 2012 it was the benchmark and its still an amazing hairdryer. The thing is, its rivals have had 7 years to catch up and in some cases even surpass the Air. Its cool shot button is awkward to use and most similar priced dryers offer 3 speed and heat settings compared to the Airs 2. It retails at just under £100 ( usually ) and for this you only get the hairdryer and nozzle. As we mentioned above, spending an extra £15 to get the drying kit is such a better deal considering you get x2 sectioning clips, GHD radiance brush, Diffuser and storage bag.
Apart from the minor faults above the GHD Air is still an amazing hairdryer and we would still be over the moon to wake up to it as a Xmas present on Christmas morning. It even made the list for our "Best Hairdryers For Curly Hair" article here. Sure a few other dryers have gotten a bit better for the price but if you are thinking of buying it then jump right in. You wont be disappointed. 
In every product review we do we always try give you the option of some other products to look at. If your not to purchase the reviewed product then we feel its good to offer you some alternatives. With the GHD Air we think it might be too expensive for some. We also feel some people would prefer a dryer with more settings. Have a look at our recommended alternatives.