So finding information about the history of Babyliss has been more trickier than we anticipated. We know they were founded in Paris, France but some sites say in 1959 and others 1961. They have since went on to become one of the biggest global brands in electronic personal care. You will not find many people who do not know who Babyliss are. In 1995 they were purchased by an American company called Conair. It used to be that normal buyers would purchase their standard type products and businesses like salons and such would buy the more professional products via BabylissPro. With the way the industry has went in the past few years with normal people wanting to purchase salon quality products for their home, you find regular people now buying products for the professional side of things. It can be confusing when you search for a Babyliss product online and find out there are 2 different websites. Babyliss and BabylissPro. They are the same company though. They also have their own website and headquarters in each big country like Babyliss UK and Babyliss Italy etc. The UK headquarters are based in Hampshire. As always, as we are a British site focused on British customers, the products we review will be available for purchase in the UK so you do not have to worry about buying from other countries and waiting weeks for the delivery.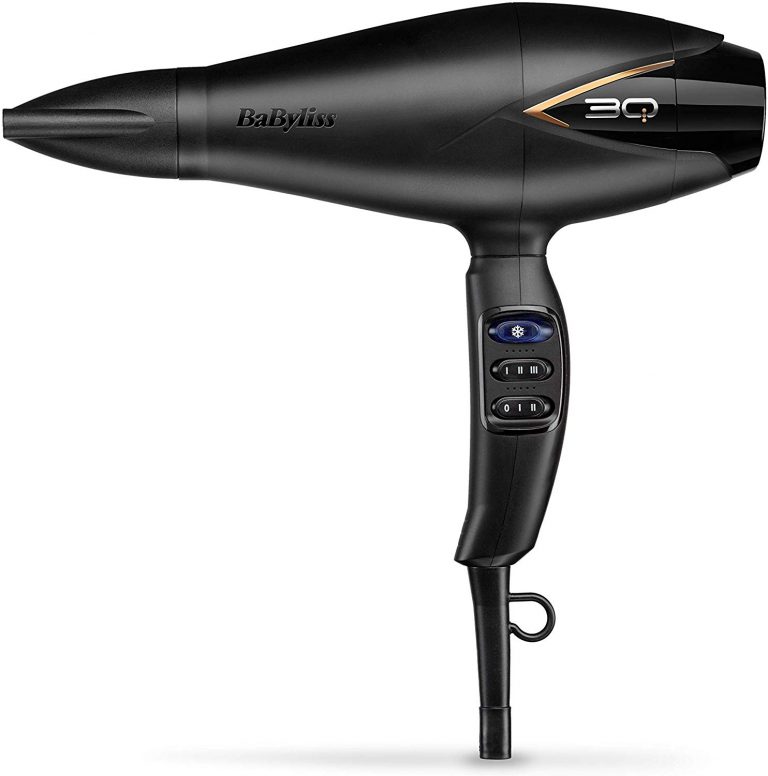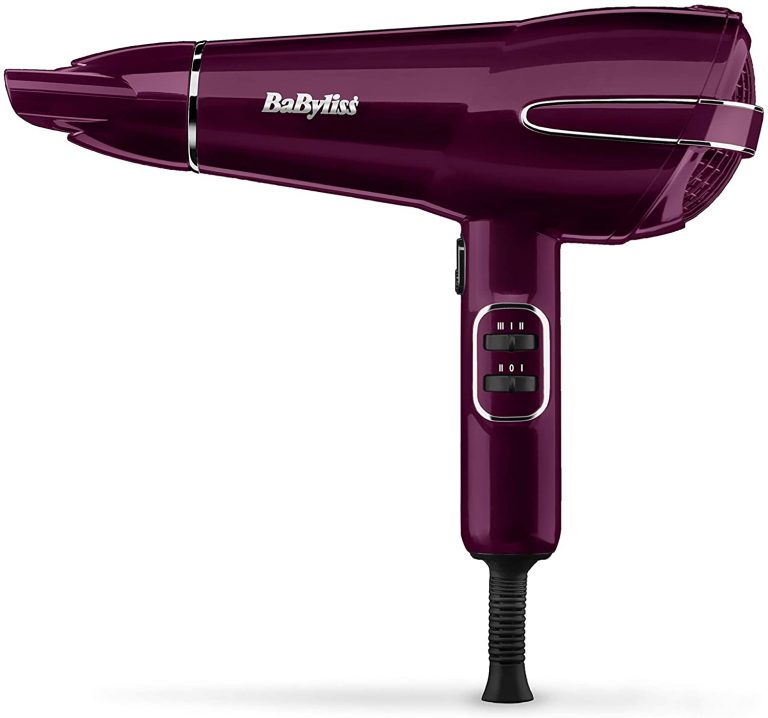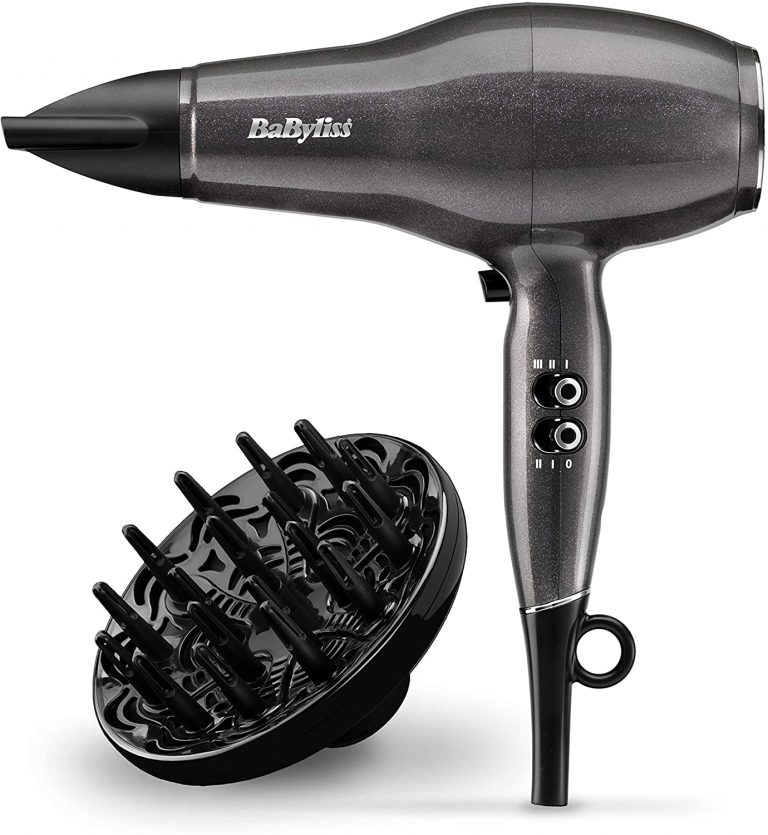 Babyliss Platinum Diamond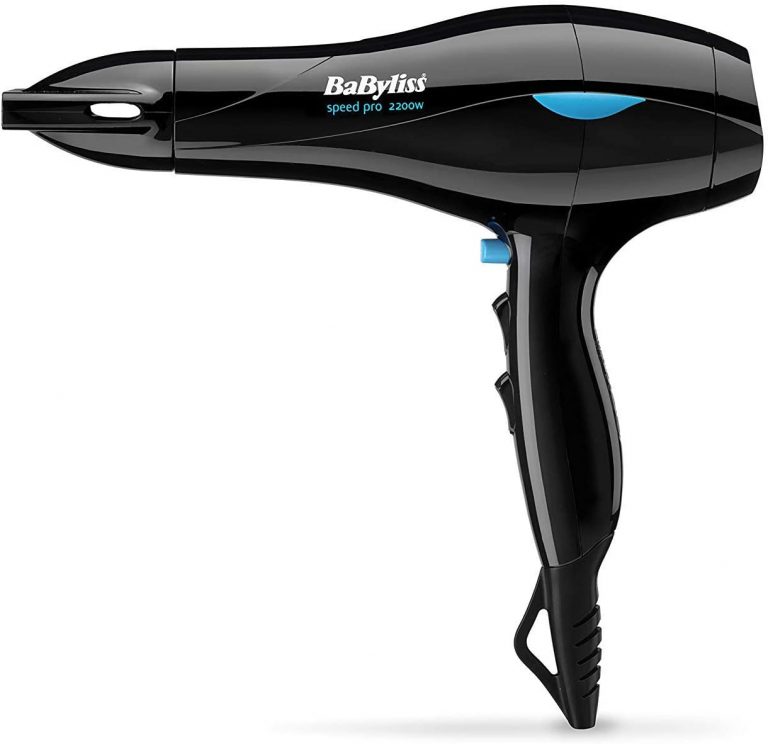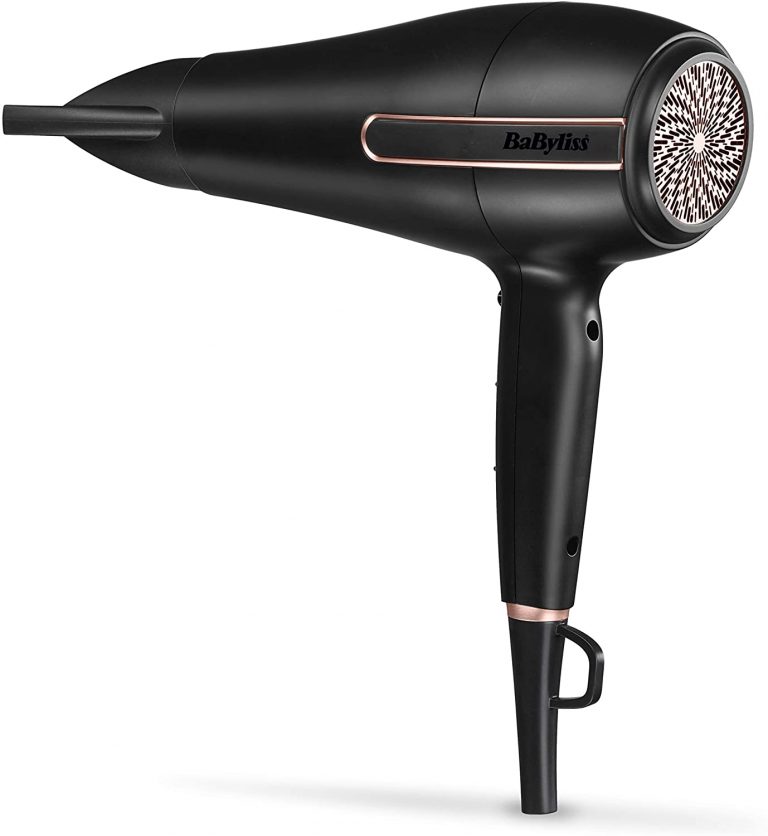 Babyliss Hair Dryer Reviews
Babyliss 3Q Professional Hair Dryer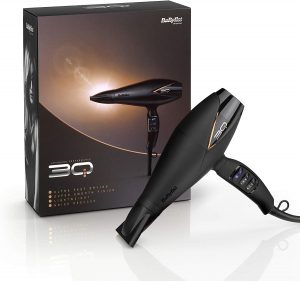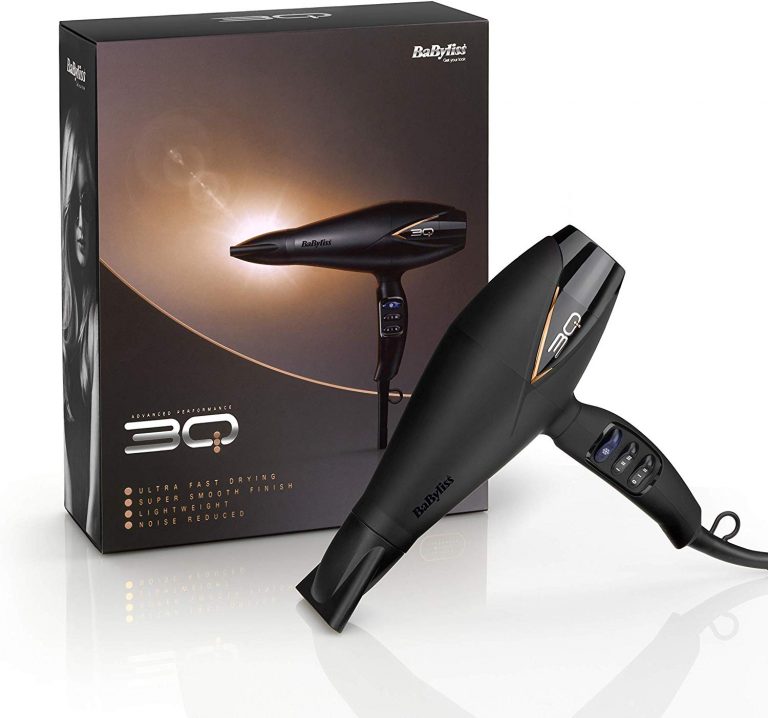 So the Babyliss 3Q Pro is definitely classed as a premium hair dryer. Even though it is a couple of years old, it still sells by the thousands every year. Packed to the brim with all the latest features anyone could want and also has a very high quality feel. Doesnt hurt that it also looks amazing.
So lets dive right in and check out the full features list:
What we liked about the Babyliss 3Q
So we did a
full product review of the Babyliss 3Q
a while back. One of the negatives we listed in this was the high price as it was selling for £120 or so. The good thing is you can usually pick it up for around half that price now (2020) so we would just like to get that negative into a positive first. The other thing we like about the 3Q is its look. The sleek black and gold line at the logo go well together. You probably think it looks long from the nozzle to the back but remember it has the nozzle on in all the images you see and when you remove it you see its not actually that long. The 3 meter length for the power cable is always welcome. Another thing that really stands out is the cool setting. You will know yourself that some hair dryers advertise having a cool button but the reality is they are actually more like a low heat. Babyliss have got it spot on here as this setting is actually cold. Also a small tip is that the back does unscrew to allow cleaning of the filter. This is something we kinda found out ourselves. They have also added things like Ion technology for frizz, noise reduction and making sure to keep it lightweight at just over 500 grams. Throw in a 10 year motor guarantee and the fact you can get it for around half the price it was when launched and you get a great hair dryer.
What's not to like about the Babyliss 3Q
This really is us nitpicking here but the only thing we noticed was the awkward feeling of the handle and buttons. You do get used to it very quickly though. As we say, we really are nitpicking as its an excellent hair dryer.
Babyliss Elegance 2100w Hair Dryer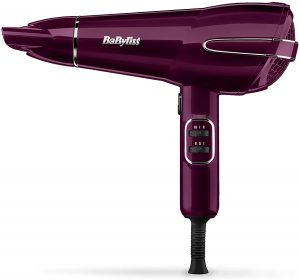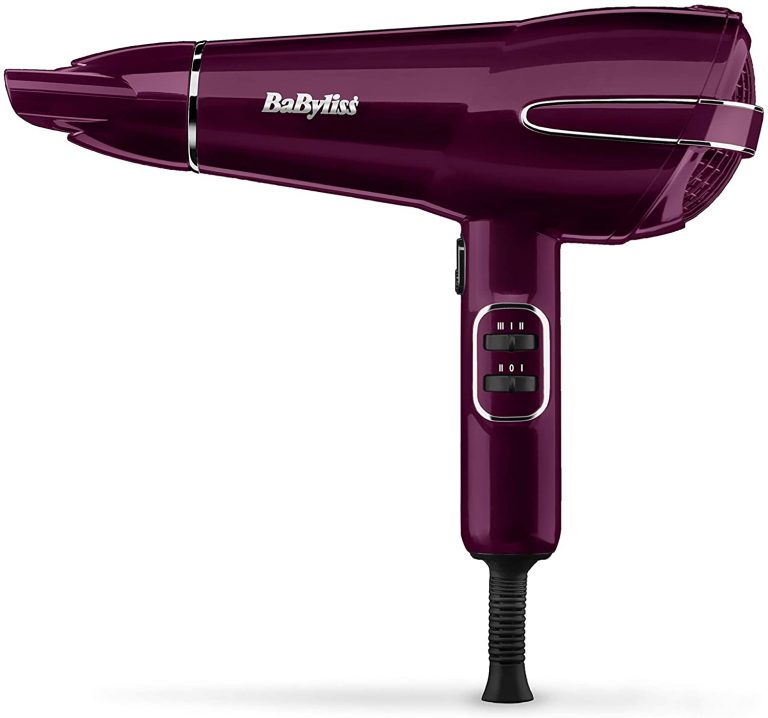 So the first thing we want to clear up is if you have searched online for the Babyliss Elegance, you probably got confused when you came across two different looking dryers. The one you see in the image above was released first and this will be the one we are reviewing here. The other model that was released is a pink gold colour and looks more like the shape of the 3Q we reviewed above. You can have a look at this other one here if thats the one you were looking for:
So we definitely class this as a cheap hairdryer. You should be looking at paying under £30 at the time of writing. Lets see what features it comes with:
2100w torque motor for x2 stronger air pressure
Ionic & Ceramic technology to destroy frizz
3 heat & 2 speed settings plus cool setting
Rear filter for easy cleaning & maintenance
2 meter power cable
3 year guarantee
High gloss raspberry colour 
Weighs 551 grams
What we liked about the Babyliss Elegance
We honestly consider this hair dryer really good when you consider the price. It drys hair quickly enough and its Ionic & Ceramic features did leave our hair smoother and less frizzy. I know it might not be for everyone but we really like the raspberry colour. The guarantee for a standard dryer is usually 1 year but you get 3 years with the Babyliss Elegance which is nice. At only 551 grams in weight, its suitable for everyone. It really is a good hair dryer for the price. 
What we did not like about the Babyliss Elegance
So we have to remember this is a cheap and cheerful hair dryer. When you pay for a hairdryer at under £30 you know there are going to be cut backs in places. The 2 meter power cable is one. The cool setting is just a less warm setting than drying. We also found the plug slim and kinda hard to get out of our wall socket. We wouldn't recommend this dryer for anyone with any kind of grip/joint problems. Normal people will get used to removing it easily enough though.
Babyliss Platinum Diamond Hair Dryer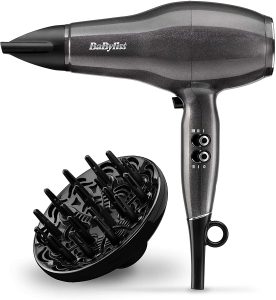 Although it has started coming down in price a little since its initial launch, we still class this as a mid range hairdryer. The Babyliss Platinum Diamond was released in 2019 so it is still pretty new at the time of writing this but its been getting positive reviews in a lot of places. It comes with diamond infused ceramic technology that not only tames frizz but leaves your hair feeling smooth and looking shiny. Other features are:
2300w salon grade motor for quick drying
Comes with a large diffuser
3 heat & 2 speed settings with cool setting
 Ionic & diamond ceramic technology for fighting frizz
2.7 meter power cord
Weighs 797 grams
5 year guarantee
What we liked about the Babyliss Platinum Diamond
So for the price range we really like this hair dryer and think it is a bargain. One of the best mid priced hair dryers currently on the market actually. We thought it might feel heavy at nearly eight hundred grams but Babyliss have done a great job in balancing the weight. You would never guess its weight when you first hold it. Its powerful enough to dry thick hair and its Ionic & Diamond Ceramic leaves your hair with brilliant results. We would expect a 2 meter power cable at this price but Babyliss have squeezed in a 2.7 meter cable that is marginally smaller than the 3 meter cable typically found on higher end dryers. The diffuser feels big and does a great job if you have curly hair. The 5 year guarantee is a welcome surprise and should give buyers piece of mind.
What we did not like about the Babyliss Platinum Diamond
We do not know exactly what Diamond Ceramic technology is compared to standard Ceramic technology. Maybe a bit of a marketing gimmick but it doesn't take anything away from what is an excellent hair dryer.
Babyliss Speed Pro 2200w Hair Dryer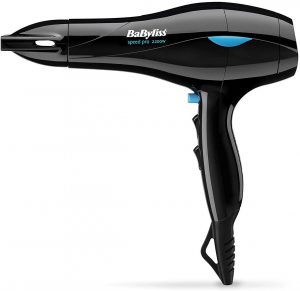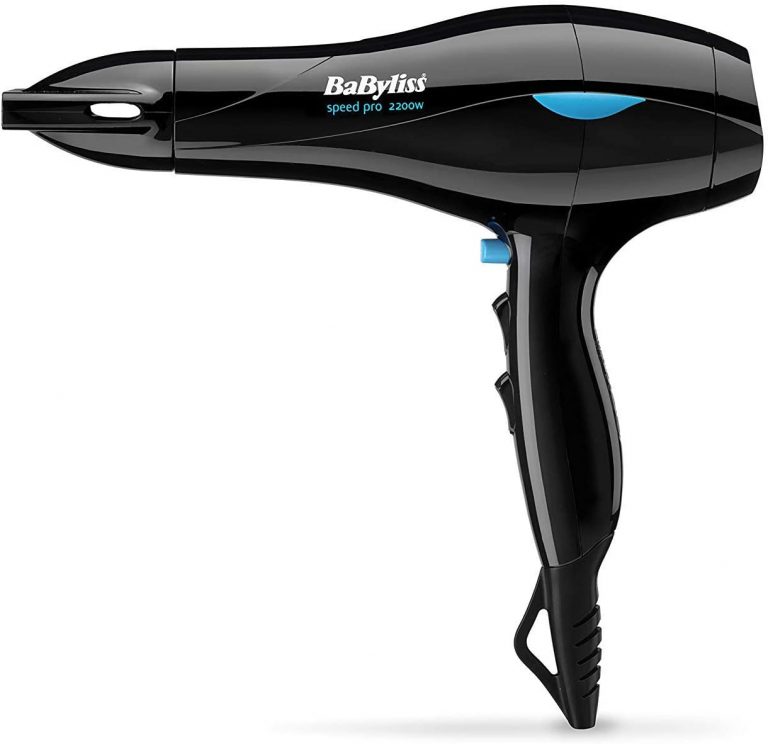 So the Babyliss Speed Pro 2200 is the oldest and cheapest hair dryer in our list. Because of the low price it still sells lots and is a favorite among buyers looking for a no nonsense hair dryer that does the job. Here are its features:
Powerful salon 2200W motor for fast drying
 Ionic technology included
3 heat & 2 speed settings with cool setting
3 meter long power cable
Weighs 808 grams
What we like about the Babyliss Speed Pro
When you consider the price of the Babyliss Speed Pro, its actually a decent purchase. The 3 meter power cable is a welcome surprise. As is the fact that it contains Ionic technology for something so cheap. The airflow coming out of it will also be adequate for someone who just wants to dry their hair easily. 
What we did not like about the Babyliss Speed Pro
The biggest problem with the speed pro is its weight. Or more accurately its weight balance. It feels like all the weight is at the back of the dryer so it gives it a kinda awkward feeling. The Babyliss Diamond we reviewed above is only 11 grams lighter but because of how manufacturers have gotten better at designing them and balancing their weight, you would never know it was that close. Its also a bit noisier than newer hair dryers. It also feels kinda cheap because, well erm, it is really cheap. You get what you pay for and if you just want a cheap dryer that will do an adequate job then you will be happy with this purchase.
Babyliss Super Power 2400w Hair Dryer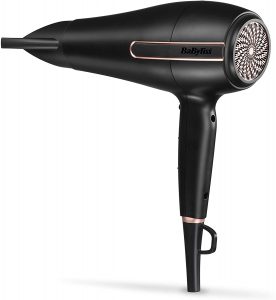 So with its 2400w motor the Babyliss Super Power is the most powerful dryer out of all the dryers we reviewed for this article. Other features include:
2400W for extra fast drying
Ionic technology
3 heat & 2 speed settings with cool setting
2.5 meter power cable
Weighs 744 grams
What we liked about the Babyliss Super Power
So we class this as a mid price range hair dryer. The 2400w motor in the Babyliss Super Power works well and drys hair really quick. The Ionic feature also provided nice frizz free finish. It also feels balanced well enough for a drier weighing 744 grams. Its a solid hair dryer for its price in our opinion.
What we did not like about the Babyliss Super Power
As you can probably imagine with part of the hair dryers name being "Super Power", this dryer is noisy. We would not say this is a deal breaker as its not gonna hurt your ears or anything but its certainly not a dryer to use if your quietly trying to dry your hair whilst someone is asleep. "With great hair drying power comes great hair drying noise". Wow thats awful i think iv been typing for too long today. Time for a cuppa and some sleep eye.
So we tried to mix it up with what hair dryers we included in this list. We wanted to include a cheap one, a mid priced one and an expensive one. We also included the highest sellers going by sales in the UK. Our overall winner is the Babyliss 3Q but we must say we are really impressed with all the dryers we reviewed here. We genuinely do not think there is such a thing as a bad Babyliss hair dryer. The Babyliss Platinum Diamond also excels for the price range its in. The Babyliss Elegance and Babyliss Super Power are around the same price so we would say go with the Super Power if you need to dry your hair quickly and go with the Elegance if you require more features to help you with fighting frizz. The Babyliss Super Power is the cheap option and holds its own at the price range its marketed for.
As we always do here at Ehaircare though it comes down to our hypothetical test. If someone placed all 5 of these hair dryers on a table and told us we could only take one home then it would have to be the Babyliss 3Q. It is the best hair dryer Babyliss currently have on the market and we highly recommend it.