Good old Remington. I don"t think iv ever seen them release something you could class as "bad". When you think of their brand name you usually think quality products but somewhat on the expensive side. That is not always true and they have a lot of hairdryers at very reasonable prices. The Keratin Protect AC8008 we are reviewing today was also featured in our "best Remington hairdryer" list you can find here:
https://ehaircare.co.uk/best-remington-hair-dryer/
Although its a few years old now we still thought we would have a full review of the Keratin Protect AC8008. Reason being is that this hairdryer is still a pretty big seller. Remington have also been smart with the pricing and gradually lowered it as the hairdryer gets older. Some hairdryer brands still try sell 5 year old dryers at the price it launched at.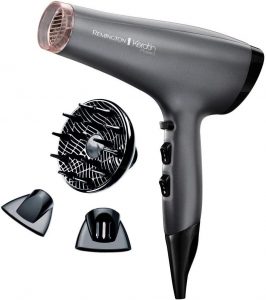 Remington Keratin Protect Hairdryer
Another reason we wanted to review this hairdryer was how well it was reviewed on sites like Amazon. With over 100 reviews over there its sitting at a 4.5 out of 5 stars which is impressive. The reviews are also recent so its not like no one is still buying it. Lets dive in.
The Remington Keratin protect is a hairdryer thats aimed at consumers who want an inexpensive way to reduce frizz when drying their hair. The Ionic, Keratin and Infused Almond Oil features are all for people who suffer from frizzy hair. Remington say it will also leave your hair with a nice smooth finish. Not only that but this dryer will also prevent and help dry & damaged hair up to x3 compared to a standard hairdryer. Price wise its around £40 at time of writing so we class this as as mid priced.
So inside the box you will find the the Remington Keratin Protect hair dryer, super slim nozzle, fast drying nozzle, Remington diffuser and the product instructions. The back grille is also removable for easy cleaning purposes. The power cable is 2.5 metres and remember it also comes with a 5 year warranty.
We imagine most people purchased this hairdryer for the Keratin and Almond feature but it also has a few good other things going for it:
It certainly looks the part but does it act the part?
We understand that the product we are reviewing might not fit what everyone is looking for so we always like to recommend a couple of alternatives. In the case of the Remington Keratin Protect, we feel the main problem might be the heavier weight and longer size so here are some hairdryers that are lighter but still focus on Ionic technology for people wanting to have frizz free hair. All 3 are also in a similar price bracket to the Remington Keratin we are reviewing.
So we will start with the positives of the Keratin Protect hairdryer. Finished results are excellent. Hair is smooth, shiny and frizz free. The Keratin and Almond feature adds moisture to your hair as you dry and has been very popular for folk who suffer from dry damaged hair. It has enough heat & speed settings to get the balance of how you dry your hair to your own preference. The negatives are the slightly heavier weight and awkward size. We wouldn't recommend this hairdryer to anyone with any sort of physical issues. Not just its weight but because of the longer length we felt we had to stretch our arms out a tad more when trying to dry certain areas of our hair. It sounds like we are saying this hairdryer is a ton weight with the length of your full leg when we generally are not. To put it into context, we would say a normal person can use this hairdryer effortlessly. It might feel heavy for the first few uses depending on the weight of your previous hairdryer but you quickly get used to it. We just feel the negatives are worth noting especially if you have any problems with your arms or shoulders etc.
The best way we can honestly describe the Remington Keratin protect hairdryer is a mixed bag. For every couple of good points there seems to be a bad point. If you get used to the weight and size there is a very good hairdryer here at a cheap enough price. Getting a 5 year warranty at this price bracket is also very reassuring.