When you think of famous hair care brands, Remington have got to be right up there. They are a massive worldwide company that have been in the industry since 1937. Probably most well known for hair straighteners but they do cover most products in the industry including hairdryers. What a lot of folk in the UK might not know is Remington is a branch of Remington arms, an American gun and ammunition seller who started in 1816 and are still in business today. Its probably well known in America but here in Britain, we are guessing a lot of folk will not know that. We do not have the same fixation on firearms as our friends over the pond.
So we have put together a list of the best Remington Hairdryers we can find. We have picked these going by the highest reviewed we could find online. Also going by the biggest sellers as well as just trying to create a list with each product containing a different feature. Variety is always good when you present a list of different items. We try not to have very similar dryers in the list as it then makes it hard to compare them. We will be looking for standard things you would expect from a good hairdryer. Good powerful airflow, weight, length of power cable, price and any special features it may have. Lets dive in and see what we came up with.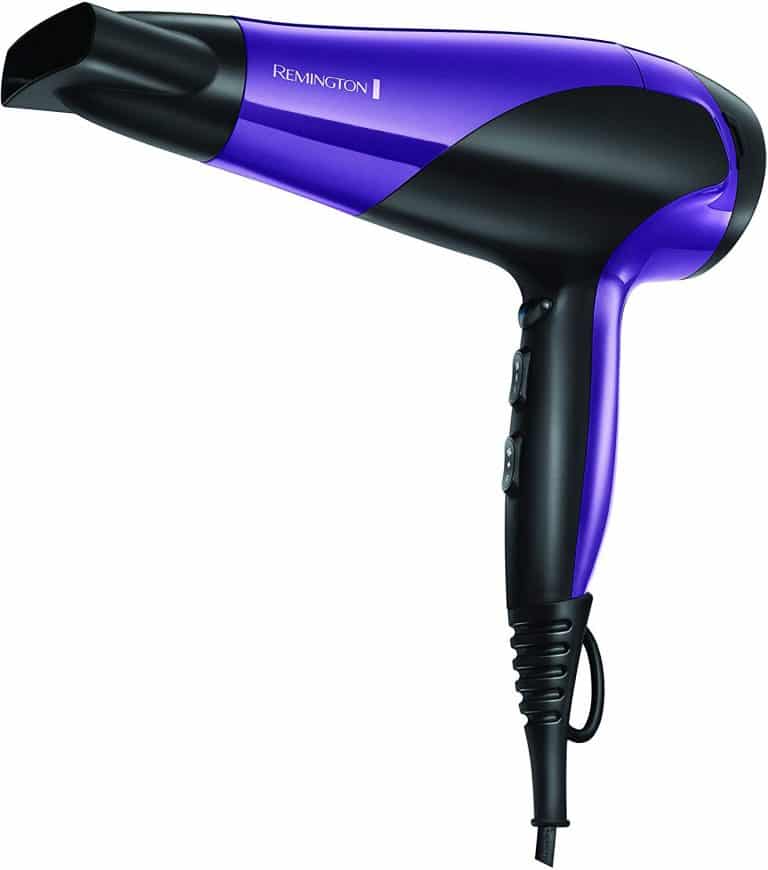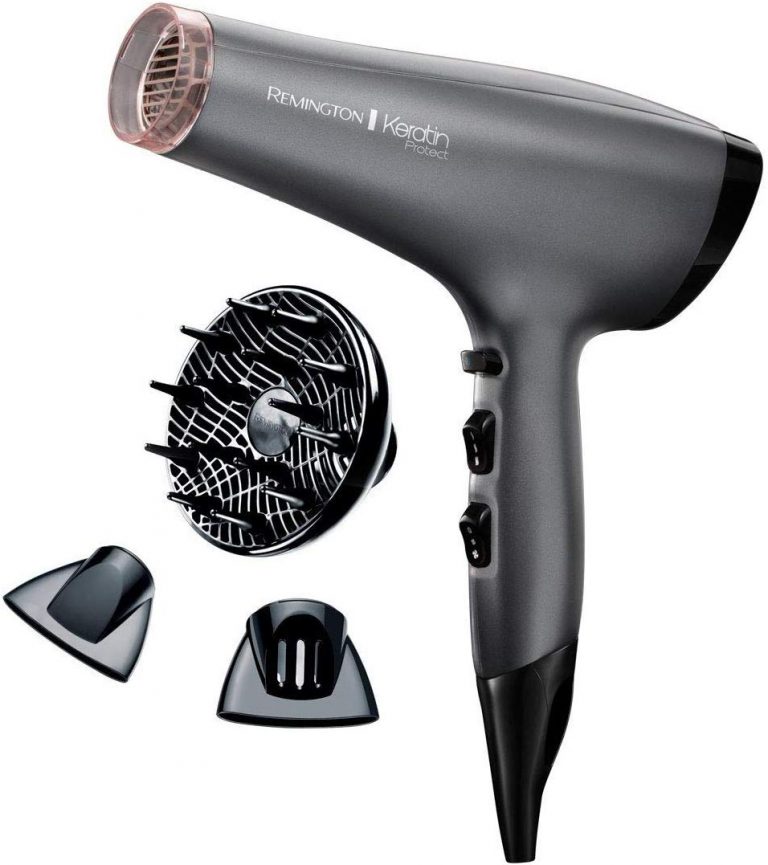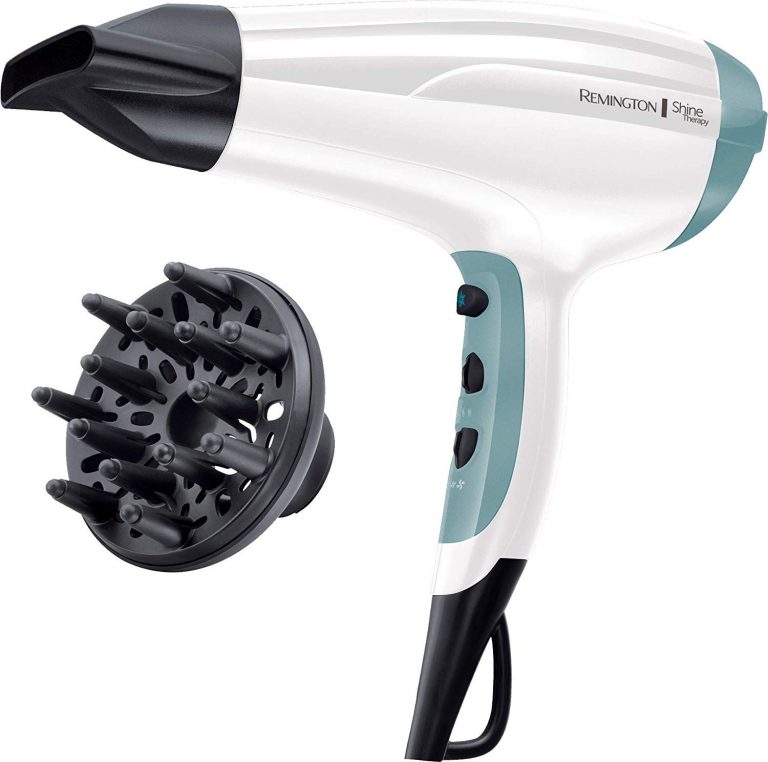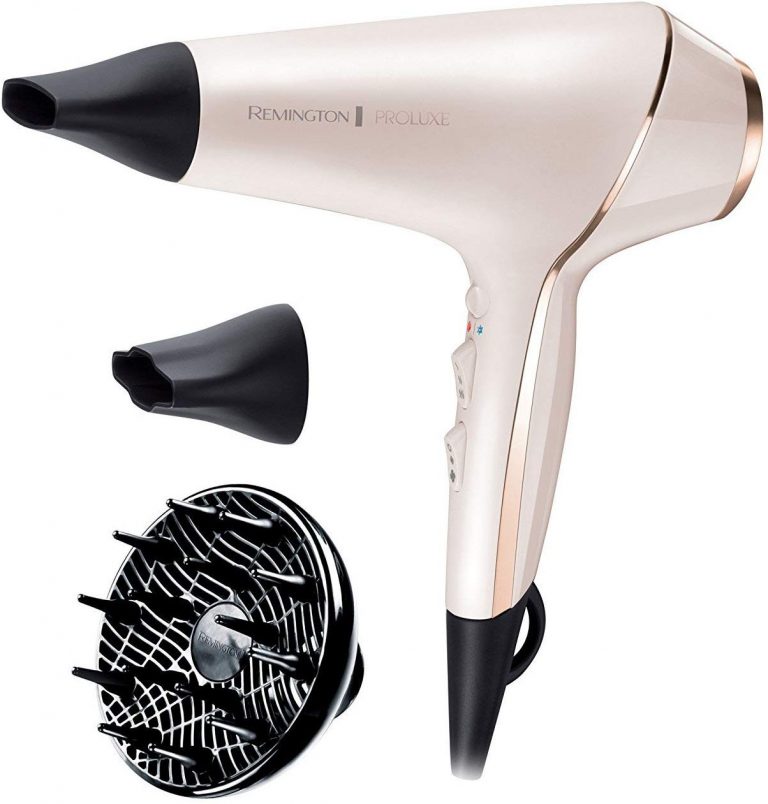 Remington Hairdryer Reviews
Remington D7779 Air 3D With Diffuser
For anyone that is up to date on the hairdryer market, yous will know just by looking at it that the Air 3D is Remington's answer to the huge selling Dyson Supersonic. It has a very similar size and shape but is it as big a hit?.
Remington marketed the Air 3D as being an alternative to the supersonic but at a far lower price point. When released this hairdryer would have cost around £200 but at the time of writing this article you can get it for well under half that price. It does boast quite an impressive list of features:
1800w Motor
New 3D Airflow Technology
Light and perfectly balanced for comfort
 x2 shine conditioning technology
Ion powered
2 styling nozzles and a diffuser
 Cool shot setting
 3 heat + 2 speed settings
 3 metre power cable
3 year warranty ( 4 years if you register online )
As we said its all very impressive. Lets see how it all works in reality.
What we like about the Remington Air 3D Hairdryer
Lets start by talking about how good this hairdryer feels to hold. The motor is actually in the handle and not the head of the dryer and it creates an amazing lightweight balance to it. The weight is only 550 grams so just over half a kilo. We can imagine this would be perfect for anyone having health problems and are struggling with holding up their current dryer for any length of time. It feels solid and well made but very comfortable. The 3 metre cable is a welcome bonus. In terms of the actual result we have got to say we were very impressed. The Ion and x2 shine conditioning technologies actually are beneficial. Hair was less frizzy and did not feel dried out. My hair looked shinier and felt sleeker.
Other notable things include the buttons feeling in a natural position. So many hairdryer button layouts feel awkward and not well thought out. This is certainly not the case with the Air 3D. The airflow 3D technology they advertise does give the dryer a more consistent airflow feel but its hardly noticeable compared to a normal hairdryer. The heat and speed settings do what they say on the tin. The coolshot setting, 2 different size nozzles ( 7mm & 11mm ) and diffuser are all welcome. It also comes with a slip mat for you to place the hairdryer onto when using which is a nice touch. We also recommend registering your Airflow 3D online as this increases your warranty from 3 years up to 4 years. It literally takes 5 minutes to do so.
What we did not like about the Remington Air 3D Hairdryer
As you can probably guess we really like this hairdryer. If we are going to nitpick then its only the two minor gripes we have above. Those being that we would have liked to have seen a handle on the box to make it easy to move around with and the Airflow 3D technology not being as important as Remington possibly hoped. As we said though, very minor things that do not take away from the fact this is an excellent hairdryer.
Remington D3190 Ionic Hairdryer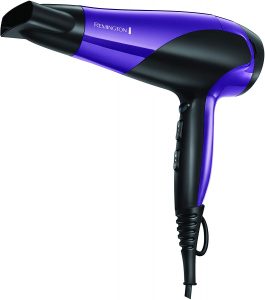 So at the time of writing, the Remington D3190 is the cheapest dryer on our list. It certainly ticks a lot of boxes mainly being an Ion dryer and having a powerful 2200w motor. It comes in the blue colour you see in the image as well as a deep purple. Both look great.
Product Highlights
Remington have done really well to include so many features at such a low price. We would honestly expect to be paying more for a Ionic hairdryer with 2200w motor.
Other features include:
3 heat & 2 speed settings
Nozzle, Diffuser and Coolshot button
 2 year warranty extendable to 3 years
What we like about the Remington D3190 Hairdryer
We really liked the fact Remington have squeezed in as many features for a hairdryer this cheap. It also has a 2 metre long power cable. It also has a removable grille at the back so you can clean it out. The exact weight is 798 grams. It has a standard 2 year warranty but if you register it online this goes up to 3 years. Definitely do it folks. If you are looking for a solid budget hairdryer then the D3190 certainly fills the bill.
What we did not like about the Remington D3190 Hairdryer
When you hold this dryer and remind yourself there is a 2200w motor inside, you expect to switch it on and feel power. For some reason it just feels lacking. Dont get us wrong, it will dry your hair perfectly fine but i think we just presumed it would be more powerful considering the specs. Another thing we would like to note is the cool shot button. We would actually call this a " cooler " shot button. It just isn't very cold unfortunately.
Remington Keratin Protect AC8008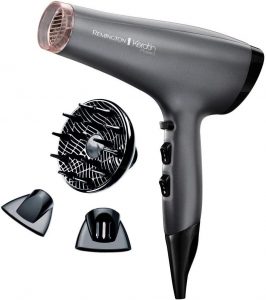 Arguably the most well known Remington hairdryer. The protect in the name refers to the micro-conditioning dryer ring infused with Keratin and Almond oil. Remington states this will protect damaged hair, leaving it looking healthy and full of life. 
Product Highlights
So Remington claim the Keratin and Almond oil features protect your hair x3 compared to a standard hairdryer. This an Ionic dryer with a 2200w motor. It comes with a Diffuser and 2 different sized nozzles ( 7mm & 11mm ). The power cable is 2.5 metres long. The exact weight is 835 grams.
What we like about the Remington AC8008 Keratin Dryer 
The best thing about this hairdryer is the Keratin and Almond feature does leave your hair feeling less damaged. Hair after use is shiny and looks great and the Ionic technology left hair far less frizzy. The difference to a standard dryer is definitely noticeable. Unlike the D1390 above, you can feel the power of the included 2200w motor. A five year standard warranty is another great addition. 
What we did not like about the Remington AC8008 Keratin Dryer
The best way we can honestly describe this hairdryer is a mixed bag. For all its good points above we have equally not so good points to discuss. The first thing we have to mention is the weight and balance of the dryer. Where as the perfect balance of the Air 3d we reviewed above actually makes it feel lighter than it is, the AC8008 is the opposite. The weight is 835 grams but because of the awkward balance and size, it honestly makes it feel heavier than it is. We also found ourselves switching on buttons we did not mean to when in use due to where the buttons are on the handle.
There is a great hairdryer in the Keratin AC8008 if you can get used to the weight and clumsy feeling of the thing. It would be worth preserving with especially if you want to fix dry damaged hair. As we said though, its a mixed bag of a hairdryer.
Remington Shine Therapy Hairdryer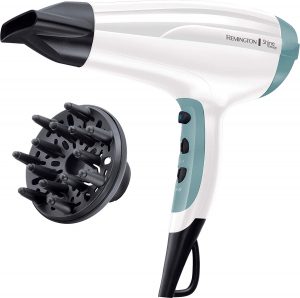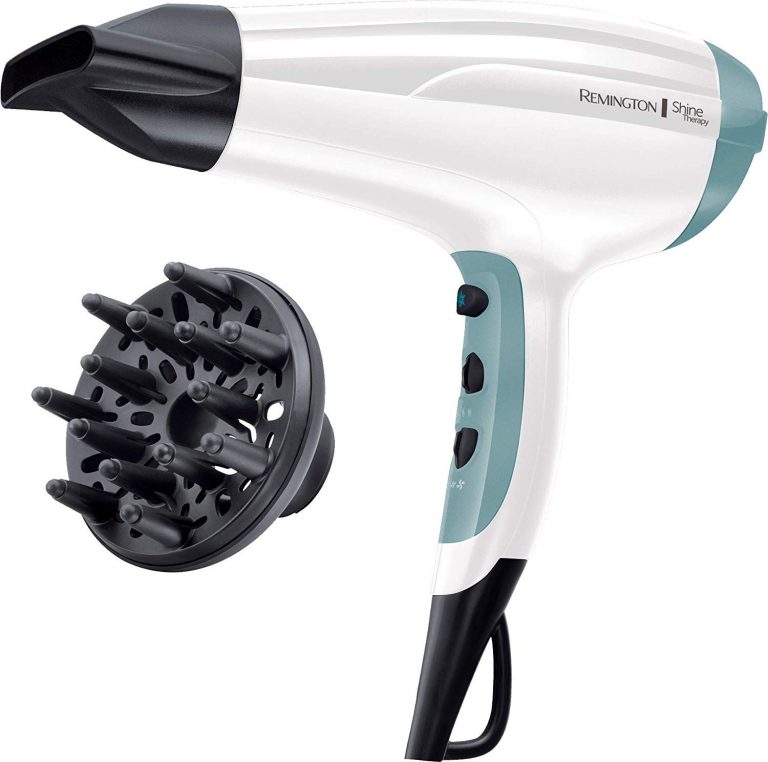 If we are being honest, we had never even seen this hairdryer before but the amount of reviews it has received peaked our interest. Its cheap and looks pretty nice. Lets see what the fuss is all about.
Product Highlights
Remington seem to have made this product aimed at people looking for a cheap Ionic dryer that will leave your hair feel shiny. Features include:
2300w Motor
Cold shot, nozzle and Diffuser included
 1.8 metre power cable
What we like about the Remington Shine Therapy hairdryer
The biggest selling point here is going to be the price. For the money it ticks the boxes. Ionic technology helps tackle frizz and the cold shot button is decent. We like the colour. Sorry if the pluses seem a bit thin on the ground but it really is just a basic hairdryer. 
What we did not like about the Remington Shine Therapy hairdryer
We couldn't think of anything better than " No Frills " when it came to this dryer. It is a cheap and cheerful product for people who simply want to dry their hair. No fuss, just dry and go. At the time of writing this, the shine therapy is the same price as the D3190 we reviewed above. We honestly think the D3190 is a better quality product when you can get it at the same price. 
Remington Proluxe Ionic Hairdryer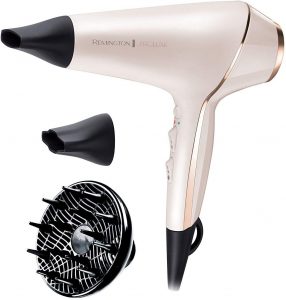 Remington have marketed the Proluxe as a salon quality dryer with great locked in styling benefits. It includes a new technology called OPTIheat that provides heat where it is needed. Price wise its a bit above a standard dryer but cheaper than the Air 3D we reviewed at the start of this list. Lets dive in.
Product Highlights
 So the Proluxe also comes with a salon quality 2400w long lasting AC Motor. It also comes with a Pro+ style shot that helps with styling and hold. Other features include:
3 metre long cable
5 year warranty
Weighs 750 grams
What we like about the Remington Proluxe hairdryer
Straight away we really like the rose gold colour. It instantly gives it a look of quality. Another thing we like is how it feels when you hold it. Kind of hard to explain but it just feels very comfortable. The power and speed settings are also great. The cool shot button is really cold which is also a plus. The OPTIheat technology seems to make the centre of the airflow warmer. This isn't just a fancy setting with no effect. It really does make you feel like you are targeting the parts of your hair you want to target.
As you can probably tell we really like the Remington Proluxe dryer. Its a high quality product that we cant recommend highly enough. It just feels good when your using it. The styling setting does feel like it holds your style tightly. Its lightweight but feels sturdy and powerful. All the different heat & speed settings ensure just about everyone will be able to find an airflow they like.
What we did not like about the Remington Proluxe hairdryer
The only minor thing we will say is that if you buy this dryer, it can get marked pretty easy. Just be careful with it though and this wont be an issue.
And our winner is……( drum roll please )
So it might not come as much of a surprise. The way we pick the best from the list is imagining someone now puts all the listed hairdryers on a table and tells us we could take only one home to keep. In that scenario we would honestly take the Air 3D. Although it is the most expensive hairdryer listed we feel it also of the highest quality. Looks great, lightweight, balanced and comes with all the features anyone would need in a hairdryer.
That doesn't mean the other dryers are bad though. The Proluxe is also an amazing hairdryer that we cant praise highly enough. The Keratin AC8008 is great if you need to protect your hair and are willing to get used to the size & weight. The Shine Therapy and D3190 are great options if you just want a cheap basic dryer that does what it says on the box ( we recommend the D3190 over the Shine Therapy if you see them at the same price).
We hope this guide has gave you some idea in regards to purchasing your next hairdryer. When it comes to Remington you can always count on quality.