Let us start this article off by saying we do not recommend using a hairdryer to dry a baby's hair. Their hair is really thin and a quick dry with a towel is all that is required. We would also recommend waiting until they become a teenager before getting them a standard hairdryer. With those 2 things out of the way lets talk about what you should look for in a hairdryer for children.
We would say the most important thing is one that cannot get hot enough to harm your child's scalp. A lot of dryers that are made for kids have much lower watts than a hairdryer we use. This is great as it prevents the risk of getting too hot and also helps protect their more delicate hair. Another important thing we want is for it to be lightweight. Kids are easily bored and you just know they are gonna want a chance to hold the dryer themselves. Lower noise is also something we recommend you take into consideration as children have more sensitive hearing than adults. Other important things are doing the right things before even reaching the drying stage. Make sure you use a good de-tangling conditioner on their hair when you wash it. Also have a good paddle style brush for brushing it out. Do not use a roller style brush as this can just get the hair more tangled. So lets see what products we recommend.
Suying 1000w Mini Folding Hair Dryer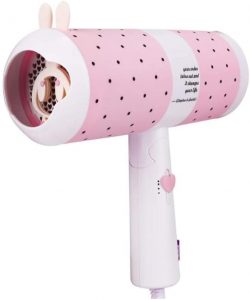 So this funky child's hair dryer also comes in a light blue as well as the pink in the image above. Sometimes when you first see "gimmicky" things like the bunny ears on this Suying kids hair dryer, it kind of makes you think "what are they trying to distract you from". Luckily this is actually a really good introductory hair dryer for kids. Bunny ears and all. 
Its 1000w motor produces just enough heat to dry your kids hair without having to worry about them burning their scalp. Because of its shape, we also found it nice and balanced to hold and this wont cause any problem for most kids. Being foldable also means its easy to tuck away on days yous go swimming etc. A very good first hair dryer for children who are at that curious age where they want to do everything themselves and upwards we would say.
Careparenting Foldable Mini Kids Hairdryer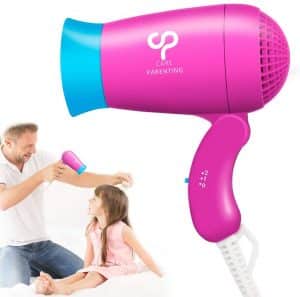 We found this kids hairdryer to be a great all rounder that ticked the boxes we are looking for. This dryers max heat only goes to 45 degrees due to its small 400w of power. Luckily that also makes this hairdryer very quiet so it wont annoy them. These are great signs straight away. It also has a honey comb backing that you wont find on an adults dryer. This prevents little ones from getting their hair stuck inside it when in use. Other features are 2 speed settings, a loop on the cord for hanging it up and its also foldable for when you want to take it on your journeys. We have also tracked down the correct size dimensions and weight:
Weighs only 209 grams
Unfolded – 4.5 x 4.9 inches
Folded – 5.3 x 3 inches
The only negative we have is small but we feel we should mention it. The hairdryer comes in blue for boys and pink & blue for girls. It could change depending on when you read this article but at the time of writing, the girls dryer costs £3 more. Its not a massive thing but considering its the exact same dryer, just a different colour its odd and annoying all at the same time. Still a great hairdryer for kids though and we highly recommend it.
Sometimes this item can be out of stock but it does come back in every now and again. Click the check latest price box below to see if its available.
Dogra 1000w Childs Hairdryer With Diffuser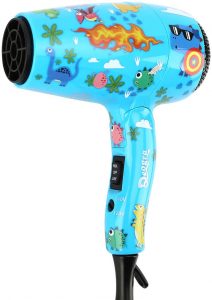 Deogra bring us this great dinosaur themed kids dryer. We will say its marketed for boys and girls but only comes in the blue colour in the picture above. Whether your daughter would bother about something like that is something you will know better than us. The Deogra comes with a 1000w motor so a bit more powerful than the careparenting dryer above. It does have a safety mechanism that turns the dryer off if it gets too warm though.
Other features include a decent size power cable at 1.8 metres. It also has a total weight of 376 grams so its pretty lightweight. It does have the hoop in the cord so it can be hanged up. Its also dual voltage so its great for travelling. Dual voltage means it can work in places like America too. Being foldable also makes it great in regards to travelling. Lastly it comes with a detachable nozzle and a diffuser. This is great if your kid has curly hair or really thick hair.
UPDATE – Deogra must have listened to our feedback as they just released a pink version of this dryer !. Ignore the complaint we had above. 
Hello Kitty Flora Hairdryer With Purse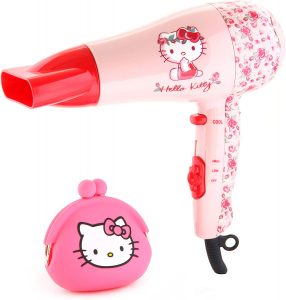 The first thing we will say about this hairdryer is its aimed kids who are at least of primary school age. We also recommend supervision if your child is in the early years of school. Think of it as their first own real hairdryer. It is an 1800w dryer that comes with 2 speed settings. Its slightly smaller than an adult dryer but not by much.
Other features include 2 speed settings and quite surprisingly a cool shot button. This is something we do not see very often in a kids hairdryer. It has a decent sized power cable as well as the hoop for easy hanging. One small gripe we have with this product is the small purse that comes with it. Its made of a rubbery plastic and the clips open too easy. We cannot understand why they added this small purse instead of a nice hello kitty storage bag. Its just an odd decision.
Another kids hair dryer that we find can sometimes be out of stock. Click the check current price box below to see if its available.
Buzazz Professional Compact Hairdryer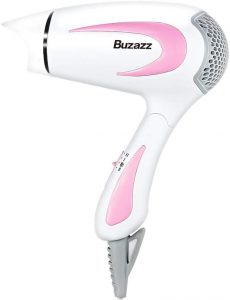 So this is actually a travel hairdryer we stumbled upon when researching for a different article. We quickly noticed a lot of reviews saying they bought it for their kid. Certainly ticks all the boxes we are looking for so we feel it is a worthwhile addition.
The Buzzas is very small and compact. It is only 6.2 x 4.5 inches when folded and weighs 330 grams. It also comes with 1100w of power. 2 speed settings and a cool shot button. The power cable is 1.8 metres so plenty of wiggle room when using. It also has a hoop for easy hanging as well as being foldable for easy storage. The nozzle can be detached. It includes a technology called " Mute Design ". This is the first time we have seen a hairdryer with this feature. Basically it should make it very quiet and perfect for kids.
As you can see from this article we have tried to cover all age groups as well as all the features we could. Hopefully this information will help you when it comes to purchasing time. Oh and here is a funny video of babies reactions when a hairdryer blows in their face. We just thought it was a nice way to end the article.