So we are guessing you have a nice holiday booked and are just getting things prepared (why else would you be looking for a travel hair dryer). Either you need to upgrade your old travel hairdryer or like a lot of people, you have had enough of lousy hotel provided dryers that couldn't dry the hairs on your big toe. Well you have come to the right place and you wont find a much better travel dryer than the GHD Flight.
Although at the higher price point of around £60 we reckon this is the best hairdryer to take on your travels that is currently on the market. As with any travel hair dryer compromises have been made here and there but the GHD Flight is small & lightweight (only 422g) but it also packs a lot of power for its size. We highly recommend it.
Read on for our full in depth review.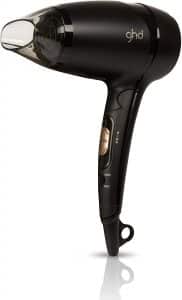 GHD Flight Black Travel Hair dryer
We were pretty surprised when GHD entered the travel hairdryer market. Most folk tend to just buy a travel dryer on the cheap as they know it is something that will only be used a few times per year (depending on your holiday frequency). That has all changed now with the GHD flight and they will be hoping people are willing to pay a bit more for a quality travel dryer that is far better than anything you find provided in most hotels. Is the quality what we have come to expect from GHD worth paying more for or are you just paying for the name?. Lets dive in and find out.
Simply put, the GHD Flight travel hairdryer is a product for people who do not mind paying more for quality. Sure a cheap travel dryer may get the job done and even be a bit better than the rubbish dryers you find that come in most hotels. GHD are stating that the Flight comes with 70% power and only 50% of the weight of the massively popular standard GHD Air hairdryer. If you have used the GHD Air then you know of its quality and if you have never tried one, take our word that we are talking about a very high quality hair dryer here. At the time of writing the GHD Flight costs around £60 but could be cheaper depending on when you read this. That is a price we would put in the "high" bracket for sure.
Inside the box you will find the GHD Flight hair dryer, detachable nozzle, product instructions and a small dust bag to store it in. We have seen a bit of confusion regarding what you receive for storage. When the GHD Flight released it came with a hard carry case the dryer fit in and you could close it shut. Now it comes with the dust bag we mentioned. We think GHD changed it to the bag as buyers felt the carry case made it too big. Lets face it when you buy a travel hair dryer you want it to take up as little space as possible in your suitcase. The problem is when people are looking to buy online, a lot of the images are old and still show the carry case. When you buy this product you should assume it comes with the dust bag. Might even be worth sending the seller a message for clarification. We hunted down images of both the carry case and the storage bag to show the difference. Hopefully that clears up any confusion if you stumble upon it.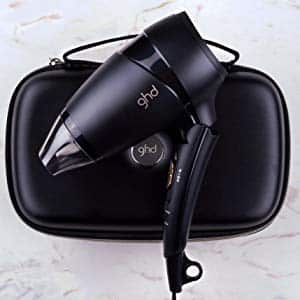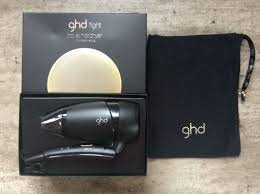 As we said at the start of the article, you know there are going to be some compromises when it comes to a travel hairdryer compared to the hairdryer you use at home. Some things are going to be scaled down to fit in a small hairdryer like this but GHD have still been able to include the most important features you need. Probably the biggest thing missing is that there is no Ionic technology in this hair dryer so make sure you bring a small bottle of anti frizz on your holiday to counter this. Especially if you are going to a warm country as we all know what humidity does to your hair.
One of the things they had to compromise on was the heat & speed settings. Where as your home hairdryer has 2 different slider buttons for heat and speed, travel hair dryers generally come just 1 so you only get the option of 3 different settings. These are warm and low, high and hot plus a "cool" setting.
We understand that the GHD Flight may not fit what everyone is looking for so we always like to recommend some alternatives. In the case of the GHD Flight, we feel the main thing that is going to put people off is the higher price. Some people will just be looking for something that is cheap and does the job. Here are some of the cheaper alternatives we recommend.
So we were very impressed with the GHD Flight travel hair dryer. At the time of writing we reckon it is the best travel hairdryer on the market. GHD have manged to take a lot of what makes the GHD Air such a good hairdryer and managed to squeeze it into this much smaller travel style dryer. Sure compromises have been made along the way but they always will when it comes to travel hair dryers. The GHD flight is very powerful in terms of travel hairdryer standards. It also has that quality feel you get with good hairdryers. It is one of the more expensive dryers but quality usually comes at a higher price.
We would have liked to have seen Ionic technology included to help battle the frizz but its not a massive issue. Put some anti frizz in your suit case and away you go. It also comes with a generous 1.75 meter power cable that is more than you tend to get with cheaper travel hairdryers. For its size and the fact it only weighs 422 grams, the power coming from it will really surprise you. Its much stronger than anything your hotel will provide.
All in all we highly recommend the GHD Flight if you are willing to pay more for a quality product. Its the best travel hair dryer we have reviewed and featured in our best travel hair dryer article.