One thing no one can say about Parlux is they lack variety. The main image above is the Advance Light in its 10 available colours ( we love the orange one ). The thing is, not only do they look great but Parlux are creating some of the best hair dryers on the market so its not only fancy colours and no substance. This Advance Light model has been available for a little over a year at the time of writing this so its fairly new. We class this in the high price range but its so worth it. Read on to find out why we highly recommend this hair dryer.
Parlux Melody Silencer Noise Reducer
So with any Parlux product we review, we like to highlight the fact that you can also purchase a separate noise reducing device called a Melody Silencer. It clips onto the back of every Parlux hair dryer ever made. The Advance Light we are reviewing here today already has a noise reduction feature built into the dryer. If you want it to be even quieter then you can also add the Melody Silencer as well. Check out this video to see it action.
Parlux Advance Light Hair Dryer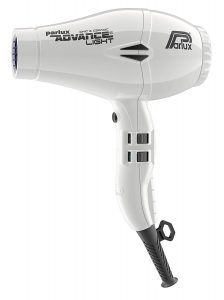 All Parlux hair dryers are aimed at the top end of the market. You used to only see dryers like the Advance Light being used in salons but with people wanting to achieve that salon quality look in their own home, they are being purchased by everyone and anyone. Expect to pay over £100 for this product. As they say though quality doesn't come cheap. It is definitely a product for people who do not mind paying extra for the best results. 
Inside the box you will find the Parlux Advance Light hair dryer in whatever colour you chose, 2 Slim Concentrator Nozzles and the product instructions. Please note this hair dryer does not come with any sort of diffuser. If you do have curly hair then we recommend trying the hair dryer before buying a diffuser as it may be strong enough for what you need. If not then you can buy one from the usual places.
As you would expect from a top of the range hair dryer at the higher price point of the market, the Parlux Advance Light comes with all the current features anyone would need.  Lets have a look:high 
We understand that the product we are reviewing in this article may not be what you are looking for so we like to also try and recommend some alternatives for you. In the case of this Parlux Advance Light, we know that the higher price bracket will put some people off and they would not be willing to spend this kind of money on a hair dryer. If that is the case with you then we have had a good dig around and found some cheaper alternatives for you to consider.
So straight away we have to say we are massive fans of Parluxs hair dryers and the Advance Light really is one of their best. One of the first things we tend to do with a hair dryer is just pick it up and see how it feels. We are happy to report this this hair dryer has a really nice light & well balanced feel. It only weighs 450 grams and we have seen consumers saying they actually use it as a travel hair dryer. We certainly would not recommend spending this kind of money on a travel hair dryer but using it as your everyday dryer and a travel hair dryer for your holidays?. Sounds like a smart idea to us. After all the GHD flight travel dryer weighs 422 grams so its pretty much the same weight.
We are also big fans of hair dryer companies offering such a wide range of different colours. Some of the brighter coloured models just pop and look really good. A powerful air flow and 3 meter power cable should be standard on a hair dryer at this price and the Advance Light ticks both those boxes. The built in noise reducer is also a welcome touch. It certainly doesn't make it silent or anything but it is noticeable. You can always purchase the Melody Silencer separately if your circumstances need it to be as quiet as can be. Another thing Parlux should also be commended for is their focus on making their products Eco friendly. Their plastics and packaging are made from recycled material. We are not certain if this applies to their older hair dryers but we know their most recent products are doing this. Always worth a mention when companies make this positive step for the environment in our book.
As you probably guessed by now, we cant recommend the Parlux Advance Light hair dryer highly enough if you are on the lookout for a high quality dryer and do not mind paying the higher price. Some folk are using this for their travels so you wont have to fork out a second time for a travel hair dryer. Highly recommended purchase.