Let us set a scene. You are excited to be on the first night of your long awaited holiday. You have spent thousands of pounds in getting here. Thats not including all the extra money you have spent buying clothes so you look fabulous when you are out enjoying your cocktails in the sun. You just come out the shower and start getting ready. You plug in the hotel provided hairdryer and switch it on. You use your hand to check the power coming from the nozzle and it dawns on you, this thing could not even dry the hair on your legs. The fact you probably just shaved said leg hair off in the shower isn't relevant here. You are facing a sun soaked crisis of frizzy hair, uncontrollable self loathing and ultimately a wasted holiday.
Ok so that may be a bit extreme but we are guessing its a situation a lot of readers have been in. The truth is its very rare to find a hotel that hasn't went cheap on things like a free to use hairdryer. So what do we do to avoid such a scenario?. We come prepared by bringing our own high quality travel hairdryer and giggle inside when seeing our fellow travellers fighting a frizz bomb. We know it could oh so easily have been us..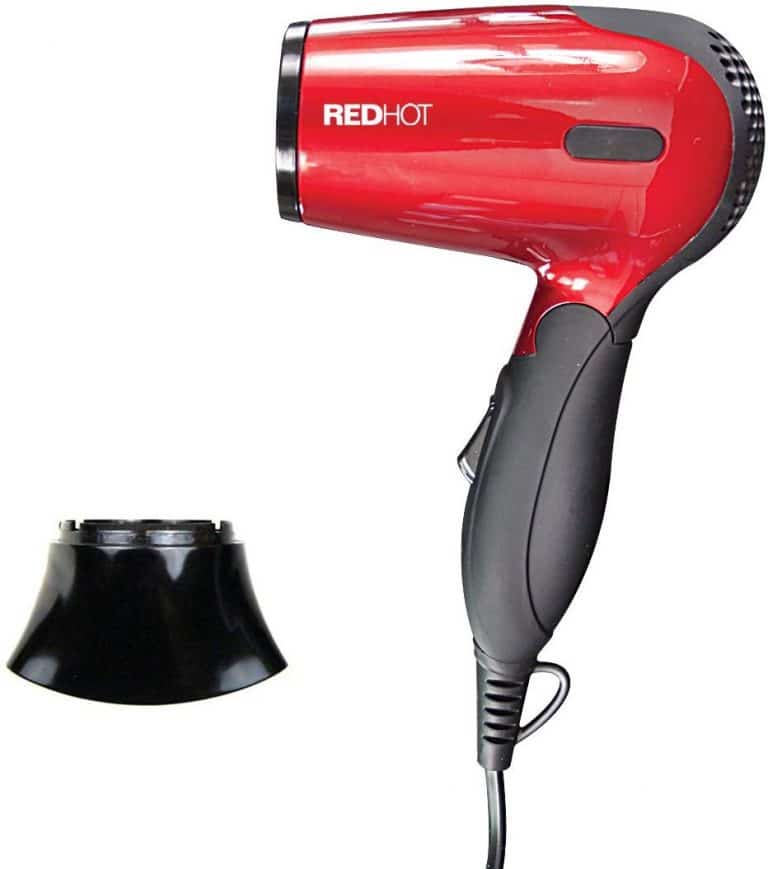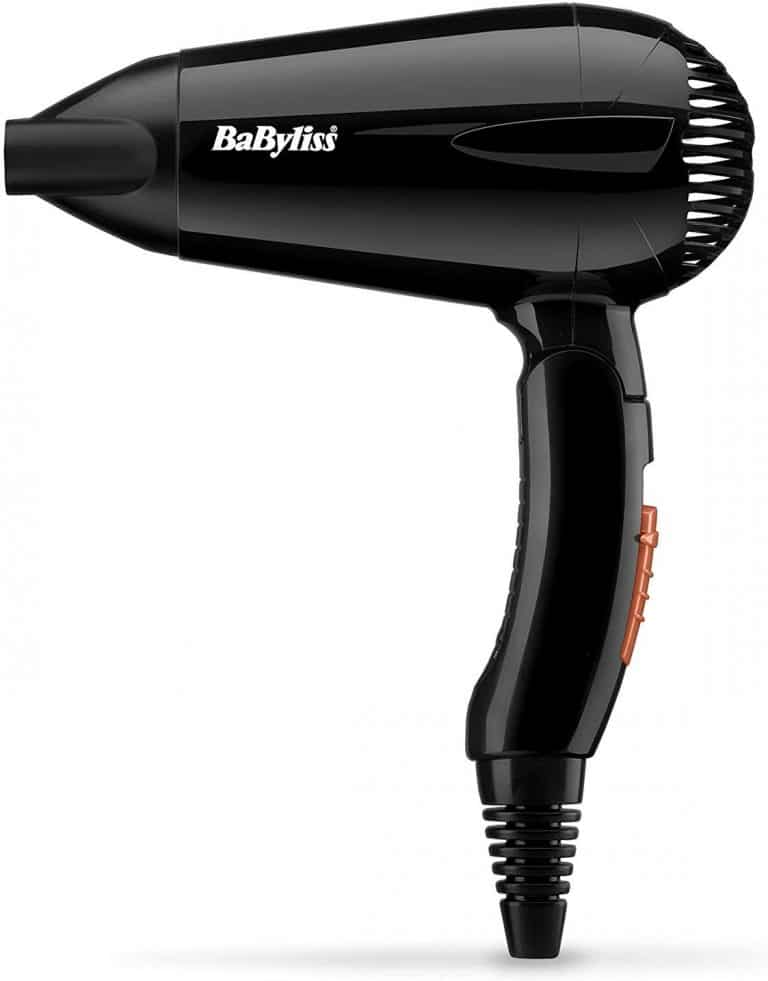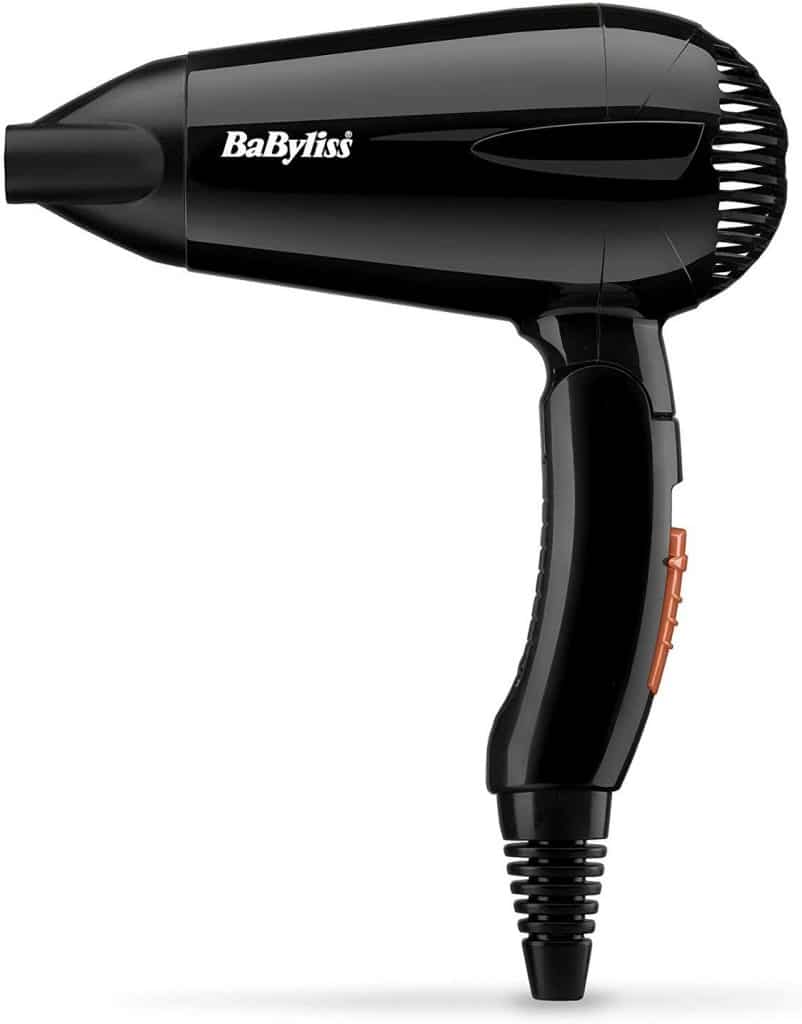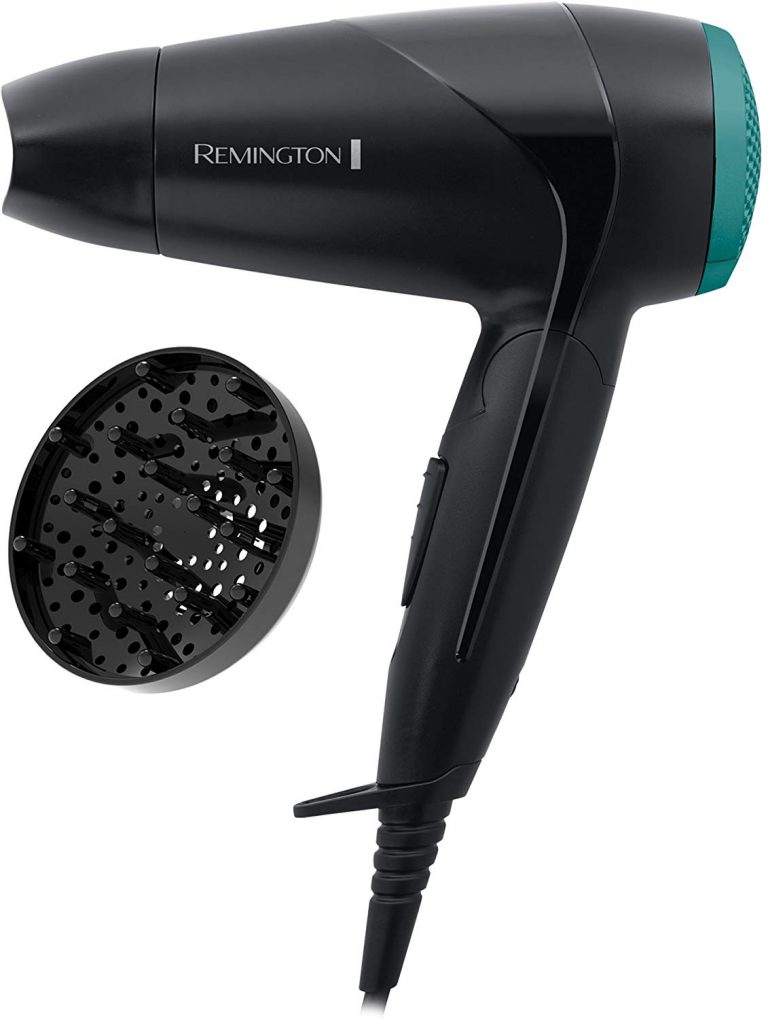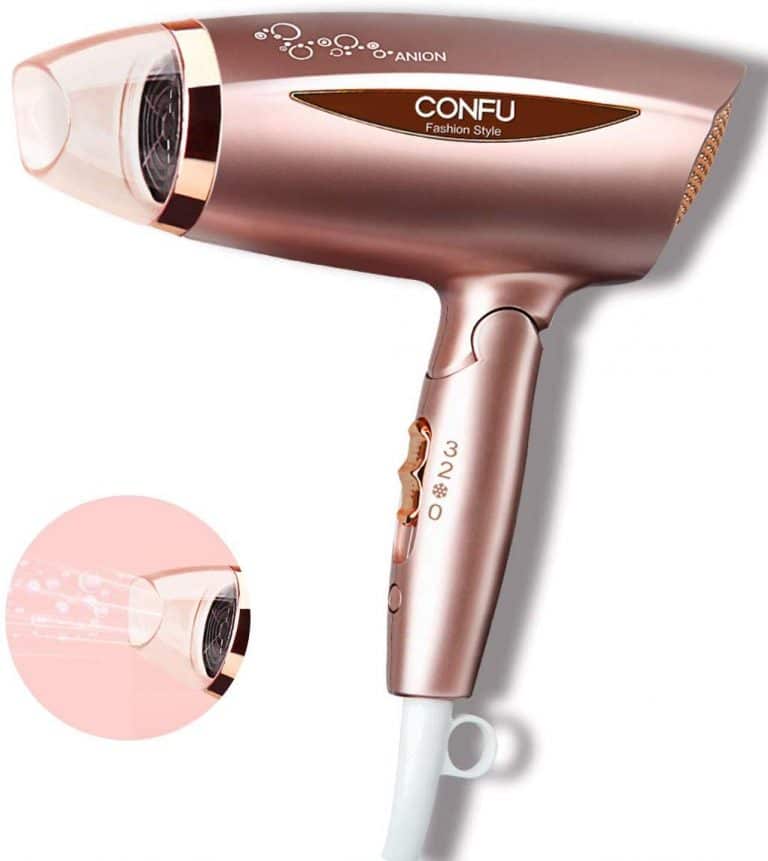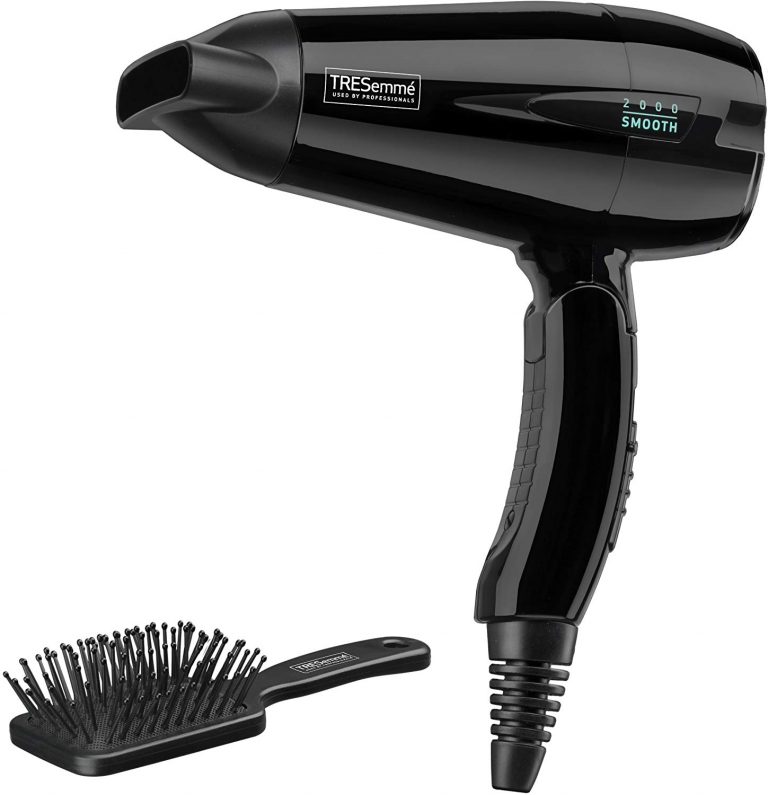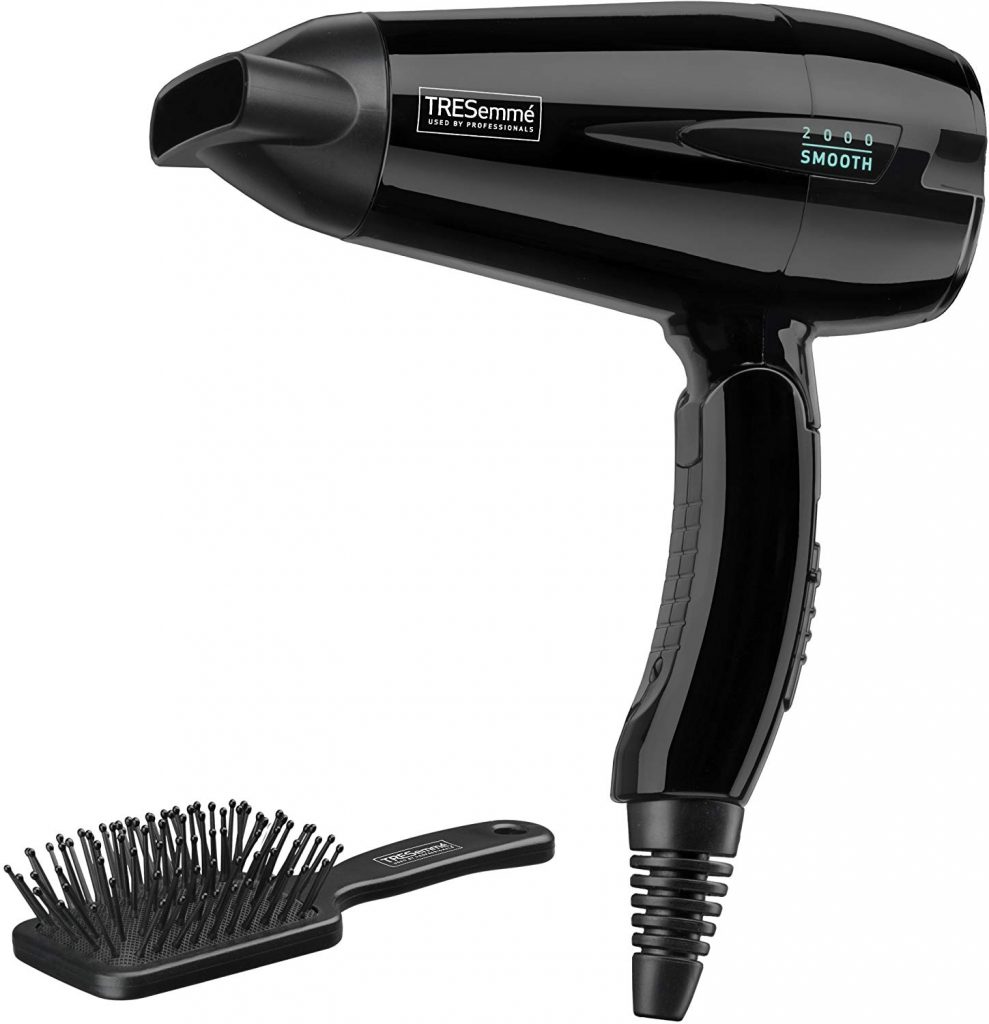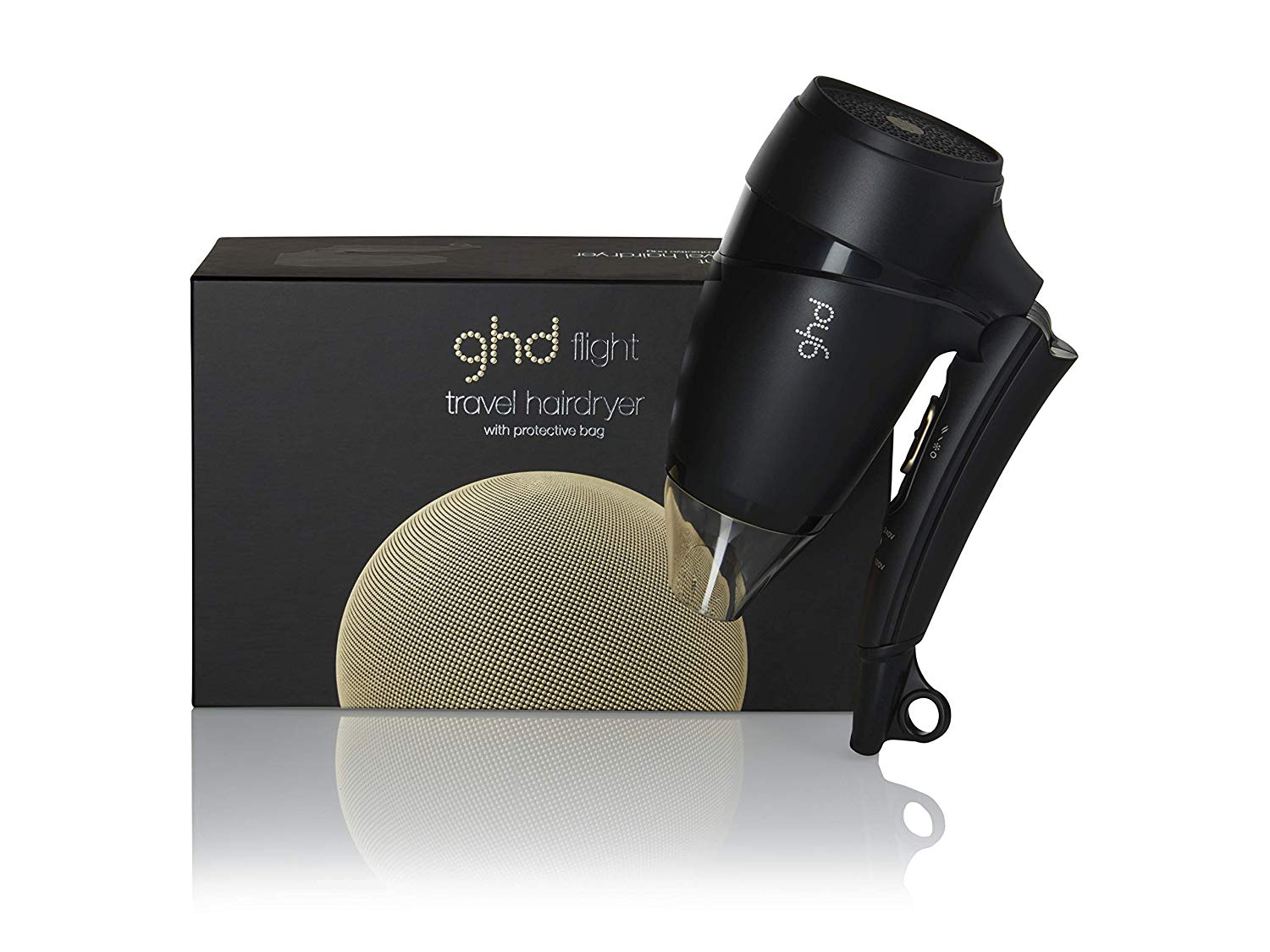 Red Hot 37070 1200W Compact Travel Hairdryer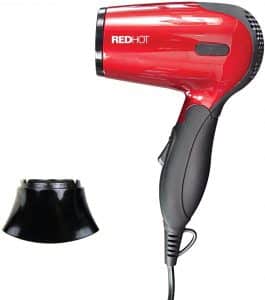 So Red Hot is not a brand of hairdryer we are that familiar with but we did some research on
Amazon
and can see the 37070 is actually one of the most purchased travel dryers on there. That is the reason we have added it to our list. There must be a good reason why it is such a big seller. Lets dive in and try find out.
Straight away we can see the main reason this is so popular is because it is on the low side of the price scale. Other features include:
Handle can be folded
Small compact size
1200 Watts of power
2 different power settings. Low ( 120v ) & High ( 240v )
One of the first things people will be looking for is the actual size as travel hairdryers are obviously purchased to be stored, either in a luggage bag or a gym bag. Luckily we digged around and this is the correct size unfolded:
28cm height
28cm width (from back grill to end of attached nozzle)
Plus when it is folded, its definitely small enough for what we require. Lets get into the good and bad then.
What we liked about the Redhot 37070
As we mentioned above, the price and mini size of this hairdryer fits the bill. The 1200W motor is also pretty good considering the price. Like most electronic products it also comes with a 1 year guarantee. We also liked the bright red colour but understand this will not be to everyone's taste. Its a cheap no frills hairdryer.
What's not to like about the Redhot 37070
Although it was not a problem for us, we reckon the size of the cable will put some people off. At just over 5 feet, you have to stay pretty close to the plug. With most standard " home " hairdryers going up to 2000w in power these days, some folk will feel like it is not powerful enough at 1200w. We advise that if you accept your hair-drying routine will probably take an extra 10 minutes then your fine.
Babyliss Travel 2000w Hairdryer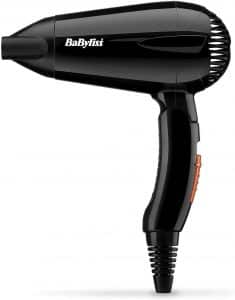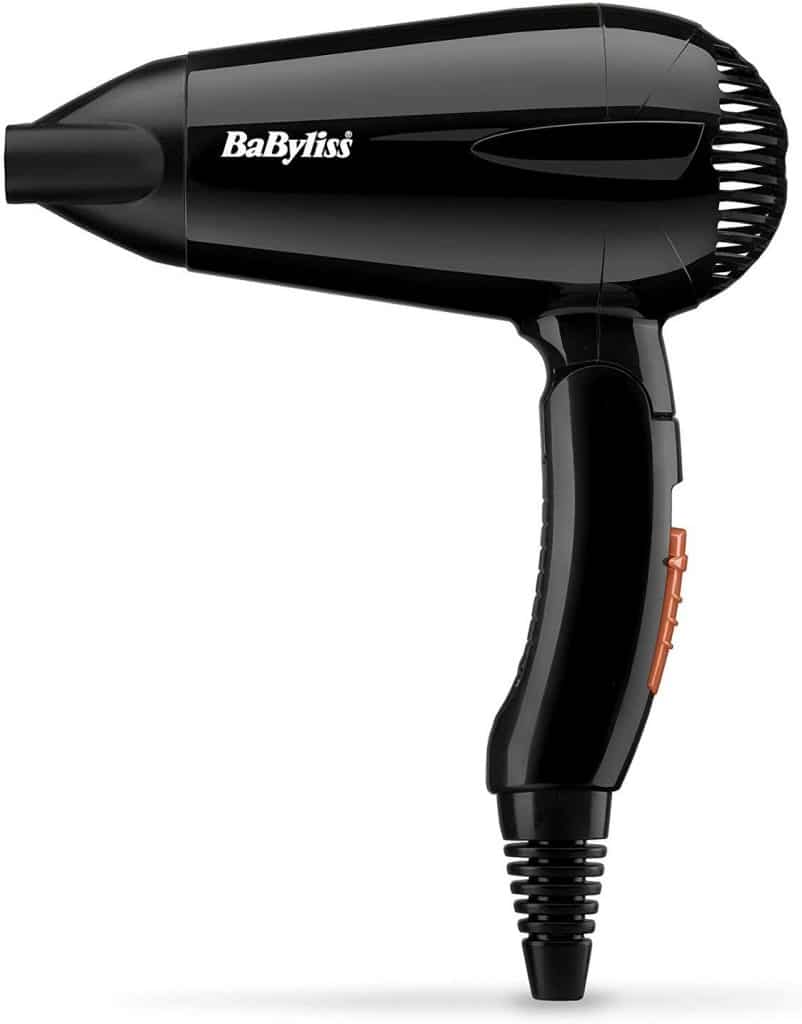 I do not think you can make a best type of hairdryer article and not include Babyliss. They really have built a solid reputation of making quality affordable products. As you can probably tell we are big fans. Lets see how they did with the travel 2000 hairdryer.
Product Highlights
The first thing that will catch your eye with the Babyliss 2000 is its powerful 2000w motor. This is great for such a small travel hairdryer. Its handle is also fully foldable to save extra space. Other features include:
Handle can be folded
2 heat and speed settings
Dual voltage so can be used worldwide
Here are the exact size specifications:
Height x Length x depth
251mm x 192mm x 82mm (Dryer unfolded).
122mm x 192mm x 82mm (Dryer folded)
What we like about the Babyliss 2000w Hairdryer
We really liked the fact this dryer comes with a 2000w motor. It really does feel like the hairdryer you are used too using at home. Its a hundred times better than any hotel hairdryer we have tried. Its small enough for easily storage and we also really like the nozzle. Some hairdryer nozzles feel pointless but this really flows well. Although not the cheapest dryer in our list, it certainly is not expensive.
What we did not like about the Babyliss 2000w Hairdryer
The only thing we did not like was the setting to change the voltage. Its a small screw that is very stiff and we had to mess around to get it to work. A really weird design choice this.
Remington D1500 Folding Travel Hairdryer With Mini Concentrator And Diffuser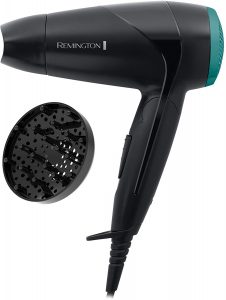 We have included the Remington D1500 dryer in our list as it comes with a Diffuser for our curly haired readers. Plus the fact that Remington are a well known brand and released the D1500 at a great price for a hairdryer with Diffuser. Lets see how it stacks up.
Product Highlights
 The D1500 is a solid travel hairdryer with a powerful 2000w motor and is also foldable for travelling. The fact they have included a decent Diffuser is a massive bonus. It also comes with 2 speed/power settings. The hairdryer weights just over 500 grams and the Diffuser only weighs 52 grams. It certainly wont put you over any weight limits.
What we like about the Remington D1500 Dryer With Diffuser
The fact that a travel hairdryer comes with a Diffuser at this price is impressive. Not only that but actually a Diffuser that works pretty well. Its 2000w of power should be more than enough to do what its intended for. Remington are also offering a 2 year guarantee. Considering most hairdryers offer only 1 year, this should give you extra piece of mind.
What we did not like about the Remington D1500 Dryer With Diffuser 
2 things we would like to note about the D1500. First is the Diffuser connection to the Hairdryer. We found this too not be as snug as we would have liked and had to be careful it did not come loose. Second thing is we also found that it can run pretty hot when the Diffuser is attached and if you do purchase this product, keep an eye on it when in use.
Confu 1600w Fashion Style With Velvet Bag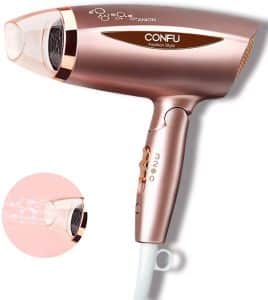 We could not make a proper list without adding a bit of glamour. The Confu 1600w certainly adds that and more. An eye catching shiny rose gold colour also comes with a black velvet storage bag. So is it all looks and no substance?. Lets find out.
Product Highlights
As well as its glam looks the Confu is the only Travel hairdryer in the list with a cool setting. We did not even realise this was possible on a dryer so small. It also comes with a 2 year guarantee which is just the cherry on top.
What we like about the Confu 1600w travel hairdryer
We have to be honest and admit we love the the glamorous look of this hairdryer. We get it may be a bit too "bling" for certain people but we find it eye catching in the right way. Even the included storage bag feels and looks amazing. It comes with 3 heat settings. Medium, hot and even a cool setting. Although it is the most expensive hairdryer we have in this list, it certainly will not break the bank. Sometimes its worth spending a little bit extra for quality and the Confu certainly justifies it.
What we did not like about the Confu 1600w travel hairdryer
The only note we would like to mention is the Confu is the biggest of the hairdryers we reviewed. Its not massive or anything though. Folding this dryer doesn't really seem to make it any more compact. It is not as big as a " home " hairdryer but its not too far off. Keep this in mind if you need your travel hairdryer to be the smallest it can be. 
Tresemme Travel 2000 Hairdryer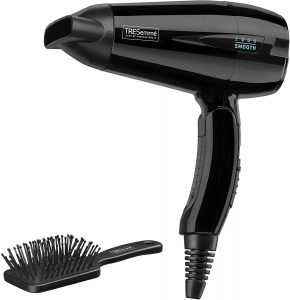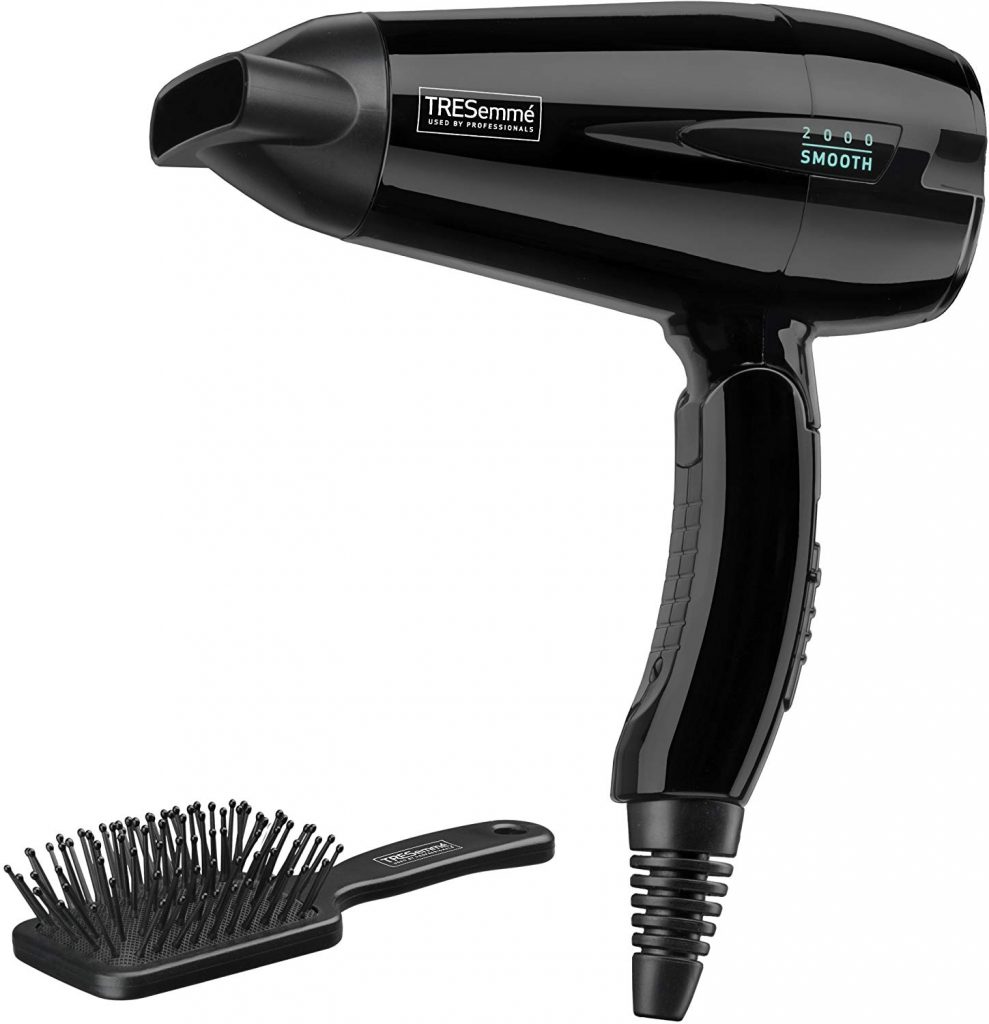 Tresemme are another great brand who have built up a very good reputation when it comes to all aspects of the beauty business. Probably more known for their shampoo and other hair care products but they do also make salon quality equipment. Lets see if the travel 2000 lives up to the reputation.
Product Highlights
Tresemme have included tourmaline-ceramic technology in this hairdryer to help prevent frizz. It also includes the small brush you see in the image. It also comes with 2000w of power which is always great. Other features include being able to fold, a light weight of 0.4kg and its also in the middle price range of the products we have reviewed. Ultimately the Tresemme travel 2000 feels like a great all rounder.
What we like about the Tresemme 2000
We liked the fact that this hairdryer ticked all the boxes for all the main features you would look for in a travel hairdryer. Its one of those products that does what it says on the box. Just a good solid product.
What we did not like about the Tresemme 2000
The only think we can note is the fact the dryer feels a little bit chunky. Wont be a problem for most but its definitely something we felt. Although we never experienced it we are reading about a few people saying it can start to run hot with prolonged use. Just another thing to keep an eye out for.
GHD Flight Travel Hairdryer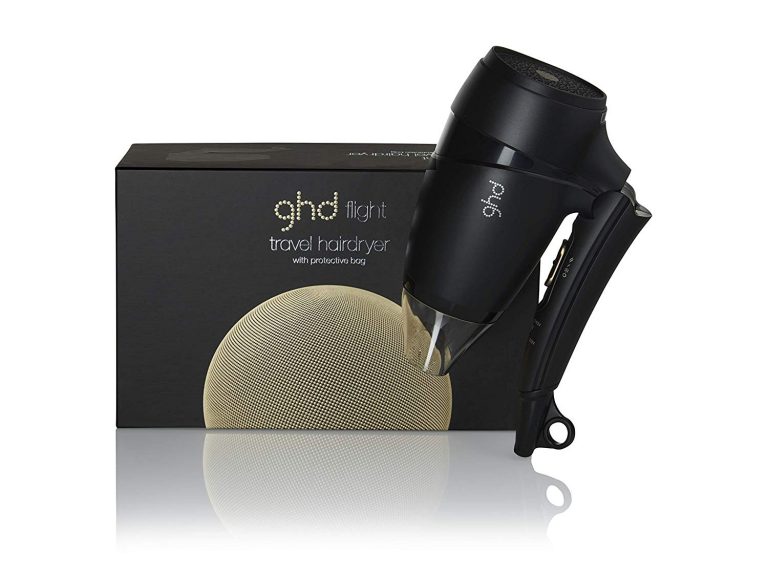 We were really surprised to see GHD release a product into the travel hairdryer market. Sure they have released the excellent GHD Air and cheaper GHD Aura but its not exactly a massive range of hairdryers they have. The GHD Flight promises 70% power of the Air but 50% of the weight.
So lets see what other features you can expect to find in the GHD Travel:
Foldable handle
1200w power
3 different settings
Removable nozzle
1.75 meter power cable
You do not find different heat & speed settings on travel hairdryers. The flight has 3 settings that are low and warm, hot and high then the cool button. The weight of the dryer with nozzle attached is 422 grams. Unit also comes with a standard 2 year warranty. Let us also clear up a small bit of confusion we are seeing online with this hairdryer. Some folk have not been happy when purchasing and it only comes with a dust storage bag and not the hard travel case they see in images or videos. The standard GHD Flight you see with the box in the image above only comes with the storage bag. GHD have released other versions that could be limited editions or even just different colours and these usually come with the travel case. Both items are usually the same price and we have added purchasing links for both below.
What we liked about the GHD Travel
Straight away we like that GHD has been able to keep that quality feel and look we loved with the GHD Air. We know that the quality and features will never be at that level with a travel hairdryer but the power and drying time with the Flight will be more than enough for most.  It is dual voltage at 240V & 120V so no problems there. It also has a built in safety feature where it will cut off when held too close to hair and is in danger of over heating. The 1.75 meter power cable and 2 year warranty are also positives.
What we did not like about the GHD Travel
So the biggest negative is going to be the price. The GHD Flight generally retails at under £60 and this is easily the most expensive dryer in our list. When we look at the GHD Air at just under £100 then compare what you are getting for the GHD Flight, it is about the price we expect. This is also not an Ionic hairdryer.
The honest truth is any the above travel hairdryers are a good purchase and will do the job fine. Some people will require a certain feature like a diffuser or a cool setting. In terms of a good all rounder we would place the Babyliss Travel 2000w just above the Tresemme travel 2000. When pushed to answer which one would be our first pick though we honestly have to go with the GHD Flight (Read full review here). It is the best travel hairdryer we have ever seen. We understand the higher price might not be for everyone and if this is the case with you we then recommend the Confu 1600w.