4 years. That is how long the Dyson Supersonic has sat at the top of the pile as the best hair dryer money can buy. With the release of the new GHD Helios we can honestly say that its reign is over. Although still expensive for a hair dryer, the Helios is a little over half the price of the Dyson Supersonic which makes it all the more impressive. The GHD Helios takes everything that was great about its big selling GHD Air and improves them. Everything about it just feels and looks quality. It also has the best weight balance we have ever felt, certainly in what most folk would consider to be a standard hair dryer shape. When you ask anyone in Britain what their favourite hair straightener brand is then you will get a lot of replies saying GHD. After experiencing the GHD Helios, they will probably give you the same answer when you ask them who their favourite hair dryer brand is. The only tiny negative was a problem with the diffuser adapter you can read about below. Considering the diffuser for this hair dryer is a separate purchase all together then we really are just nitpicking here though. Read on for our full review and see why we believe the GHD Helios is now the best hair dryer currently on the market.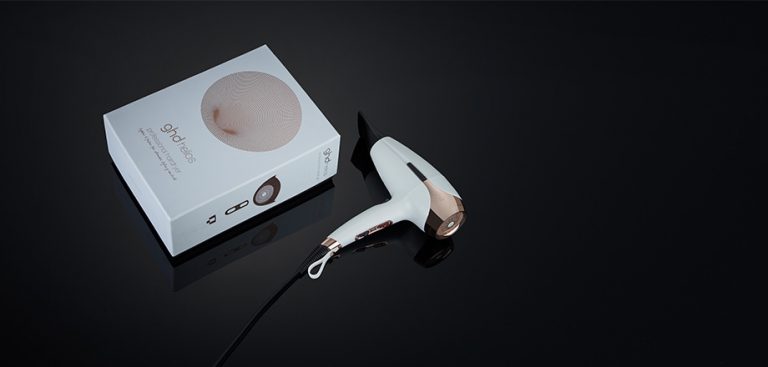 So the GHD Helios is actually only the 4th hair dryer GHD have ever made. There was the GHD Aura ( discontinued ), GHD Flight Travel and the very successful GHD Air. It has been a few years since any new releases and other brands are starting to catch up with the quality of the GHD Air. The timing is perfect for them to release the Helios and keep their place as one of the very best hair dryer makers on the market. We were actually starting to wonder whether GHD may pull out of the hair dryer market and instead focus all of its energy on staying at the top of the hair straighteners market. When we first seen the Helios we honestly thought it looked too similar to the GHD Air. Maybe they got lazy and just added a few extra settings. How wrong we were.
The GHD Helios is definitely aimed at people who want the best hair dryer available and don't mind paying a higher price to get it. People who buy this hair dryer will see it as an investment that should be problem free and produce great results for a very long time. I am currently writing this article in the middle of the Covid lockdown and imagine sales of salon quality hair dryers like this will be high as no one knows when they will actually be able to go into a hairdressers and get theirs done professionally. The funny thing is the GHD Helios was released in the UK around the same time as the first lockdown started. We imagine when things go back to some sort of normality you will see a lot of salons switch over to using the Helios when you go in to get your hair done. Its perfect for everyday extended use.
As you can see from the video below, there is nothing particularly eye catching about its box. Its pretty standard stuff. Inside you will find the dryer and its contoured nozzle. Lift it up to find the included instruction manual underneath.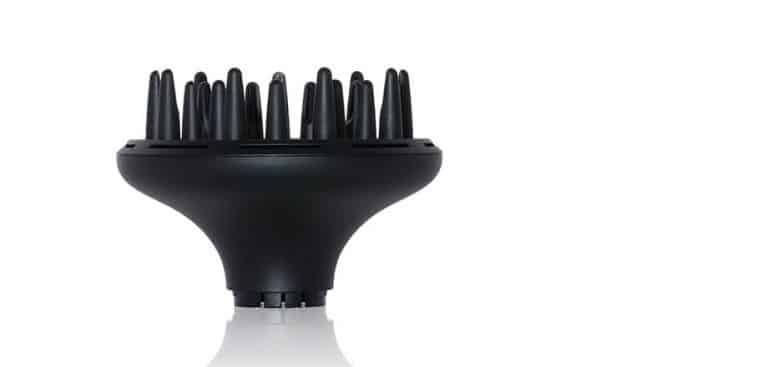 So the GHD Helios does not come with a diffuser as standard but there is the option to purchase one separately and its pretty reasonably priced. Owners of the GHD Air will quickly recognise that this is the same diffuser you could buy for that model. GHD have now included a ring adapter that will make it compatible with the Helios and it works very well. It is very easy to attach/detach and will be included with all diffusers purchased from the start of 2020 when the Helios first hit the market. The exact weight of this diffuser is 220g for anyone who requires this info.
This leads us to the only slight negative thing you will see in this review. It will also only apply to people who already own this diffuser from when they bought it previously for the GHD Air. There is no option to buy the ring adapter on its own. As it stands right now, you are going to have to buy the full diffuser again just to get hold of the small ring adapter. We have reached out to GHD about this and they confirmed you currently cannot buy the adapter on its own. We hope this is something they have another look at and change in the future. It would make more sense to simply sell the ring adaptor on its own and let folk who already own it from the GHD Air be able to make it compatible with the new Helios. If it is something that affects you then get in touch with the GHD customer support as they are very helpful in their replies. Its just a small bummer in an otherwise amazing hair dryer. Considering this diffuser is a separate purchase, its not something we have placed in the cons section of the overall review though.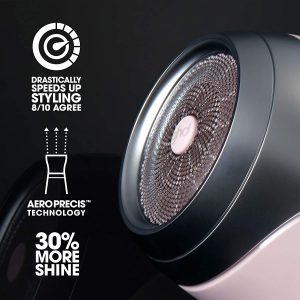 As you would expect from a hair dryer at this price, the GHD Helios comes packed with a ton of features. We will list them all here but dive into how they work in the real world in our verdict below.
So as we do with all the products we review here at Ehaircare, we like to recommend some alternatives for yous to look at in case the featured product is not tickling your fancy. We consider the GHD Helios to be in the top end price bracket so we have included 2 dryers that are also in the high end of the price bracket. We also had to include the GHD Air of course. This is very similar to the Helios but it has been out a couple of years and is not as good as the Helios. It is cheaper though and is still a massive selling excellent hair dryer.
So for our final verdict we are gonna try something a little different. We have mentioned throughout this review that we believe the GHD Helios is now the best hair dryer on the market. Rather than just doing our usual summary, we are going to tell you exactly WHY we believe it is the best. Lets get started:
The first thing anyone will obviously want to know about any hair dryer is obviously whether it is any good at actually drying your hair?. The most appropriate words we can use to describe the results of the GHD Helios are "game changing". The Helios uses new technology called AeroPrecis. Without getting too technical, its brushless motor has its own built in power source that enables it to blast out a controlled air flow at 75 mph. The nozzle has also been redesigned to curve at the end, similar to how a planes wingtips do. Planes do this to minimise air turbulence. By adding a similar method into the GHD Helios, they have managed to produce the best hair drying times we have ever seen. Your hair will go from shower wet to dry in just over 1 MINUTE. Yes you did read that correctly. This is around 1 minute faster for wet to dry than the previous fastest time set by the Dyson Supersonic. We looked around online and other reviewers are also reporting similar results. Its not just the speed of drying we found amazing either. Finished results left our hair frizz free and smooth without the need to even run a straightener through it. Because it dries hair so quickly you should also start to notice your hair getting stronger and having far less breakage problems. Its gonna take something very special for a hair dryer to now come along and better these results.
Another thing we loved about the GHD Helios was its weight balance and just how good it feels to hold. Although we never found the GHD Air to feel heavy, GHD have managed to knock around 100 grams off its weight to bring the Helios down to just over 500g. Another impressive feat given the much better results.
The Helios currently comes in 4 different colours. White, Black, Blue and Plum. We personally prefer the blue. The white is also very nice but we don't know how white it will stay with long term use. Let us know if you can confirm any dulling of colour from frequent use.
We also never had any complaints about the noise generated from the GHD Air whilst in use. The holes in the metal grille have now been redesigned for the Helios and its now even quieter than the Air. Just another thing they have went out their way to improve.
Another few things we would like to mention before wrapping this review up. The GHD Helios also comes with a 3 meter power cable as well as a reassuring 2 year warranty. When you first try the cool shot button it does not feel much colder than the lowest heat setting. A tip is to just wait a small amount of time and it will go much colder. Just something to remember.
So our quick summary then. Its clear that GHDs starting block with the Helios was looking at its very successful Air model and thinking how can we make it better?. They have made it lighter, better balanced to hold, quieter to use but most importantly was adding the new AeroPrecis technology that produces the best results ever seen for any hair dryer. Although we can say it is only around half the price of the hugely successful Dyson Supersonic, it is still a lot of money for a hair dryer. If you can afford it or wanna simply treat yourself then we cannot recommend the GHD Helios any higher. It really is a game changer.