Although Remington usually deliver high quality products, their hair dryers are generally aimed at the lower priced range of the market. The Hydraluxe Pro is their first real foray into the higher end market. Initially priced at £150 on launch, it seems most retailers have dropped the price down to around £99 at the time of writing this article. Remington also launched a cheaper version of the Hydraluxe (Non Pro) that comes with a lot less features than the Pro model. Priced very low at £30, it might be worth a look if you are someone that would rather not spend that amount of money on the Pro version. We have listed both versions in the boxes below but this review will only be focusing on the Hydraluxe Pro version. Lets dive in.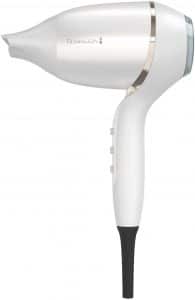 Remington Hydraluxe Pro Hair Dryer
When it comes to the look of the Remington Hydraluxe Pro, its pretty silly but it always reminds us of a swan. Especially when the nozzle is attached like the image above. You can almost picture it bobbing along a lake with not a care in the world. Maybe its actually just a sign that we are spending way too long down the park. Apart from the swam comparison, we do like the silver colour with gold trim. It also has a light blue circle rim around the back filter that breaks it up a little.
The Remington Hydraluxe Pro covers all aspects you would be looking for in a modern hair dryer but no doubt its biggest target audience will be anyone who has problems related to heat damage with their hair or scalp. The new powerful digital motor cuts drying time in half compared to any previously released 2200w Remington hair dryer. There is also their much advertised new technology called HYDRAcare. This is a sensor that constantly monitors the temperature the dryer is outputting and regulates it so it never gets to a heat that can damage your hair. When you put these two factors together you should have your hair drying at a controlled temperature in around half the usual time to further reduce damage. Because your hair is not getting burnt to a crisp, their Ionic Conditioning feature can then keep hair at its natural moisture levels so you can achieve smooth, soft and shiny salon quality finishes.
So its all pretty standard stuff here. The Remington Hydraluxe Pro comes tightly packaged and is fairly vanilla. Inside the box you will find:
The Reminton Hydraluxe Pro hair dryer
1 slim styling nozzle
1 wide drying nozzle
The Diffuser
Instructions manual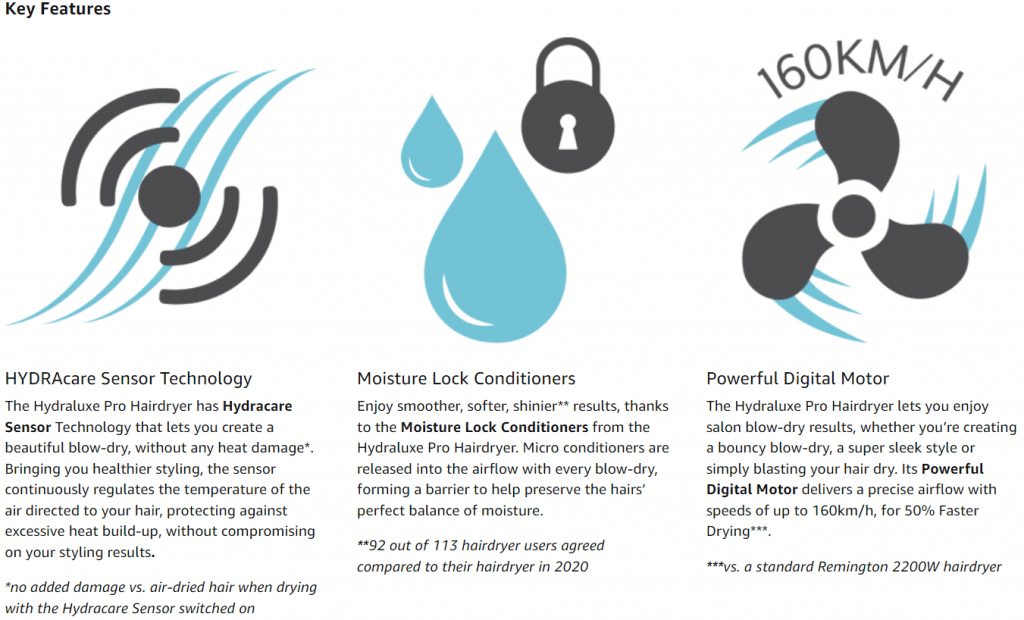 The Remington Hydraluxe Pro certainly covers most peoples needs when purchasing a new hair dryer. As we said above, its main selling point will be the new Hydracare Sensor Technology that will be welcome for anyone who has problems relating to heat damage with their hair or scalp. Other features include :
We understand that whilst reading through our review of the Remington Hydraluxe Pro, some of yous might feel it is not the hair dryer for you. That's why we always try and add a couple of alternatives. We have added the cheaper Hydraluxe ( Non Pro ) model for folk who are looking for something cheaper. We also added the GHD Helios for folk willing to fork out a bit more money to get the very highest quality hair dryer currently available. We also included the Remington D3010 for folk looking for a no frills, cheap as chips hair dryer that does the job.
Remington Hydraluxe (Non Pro)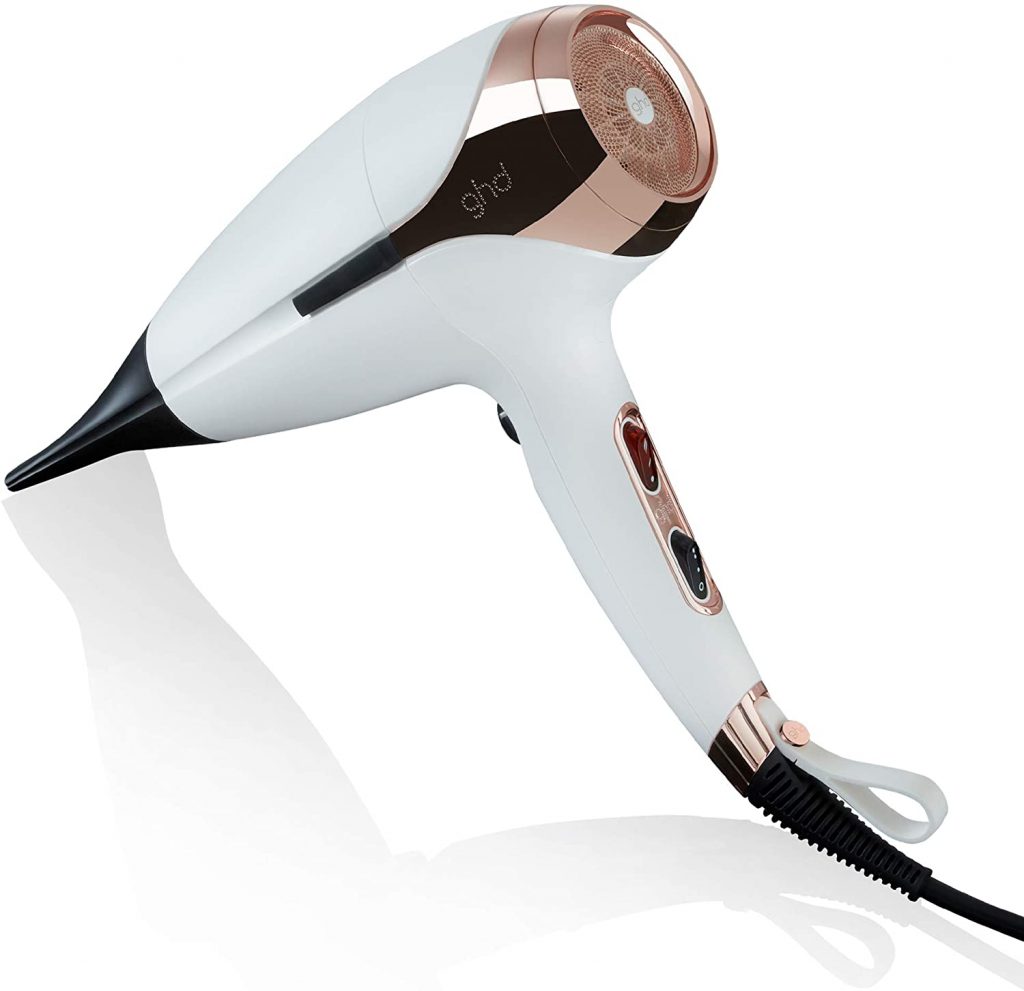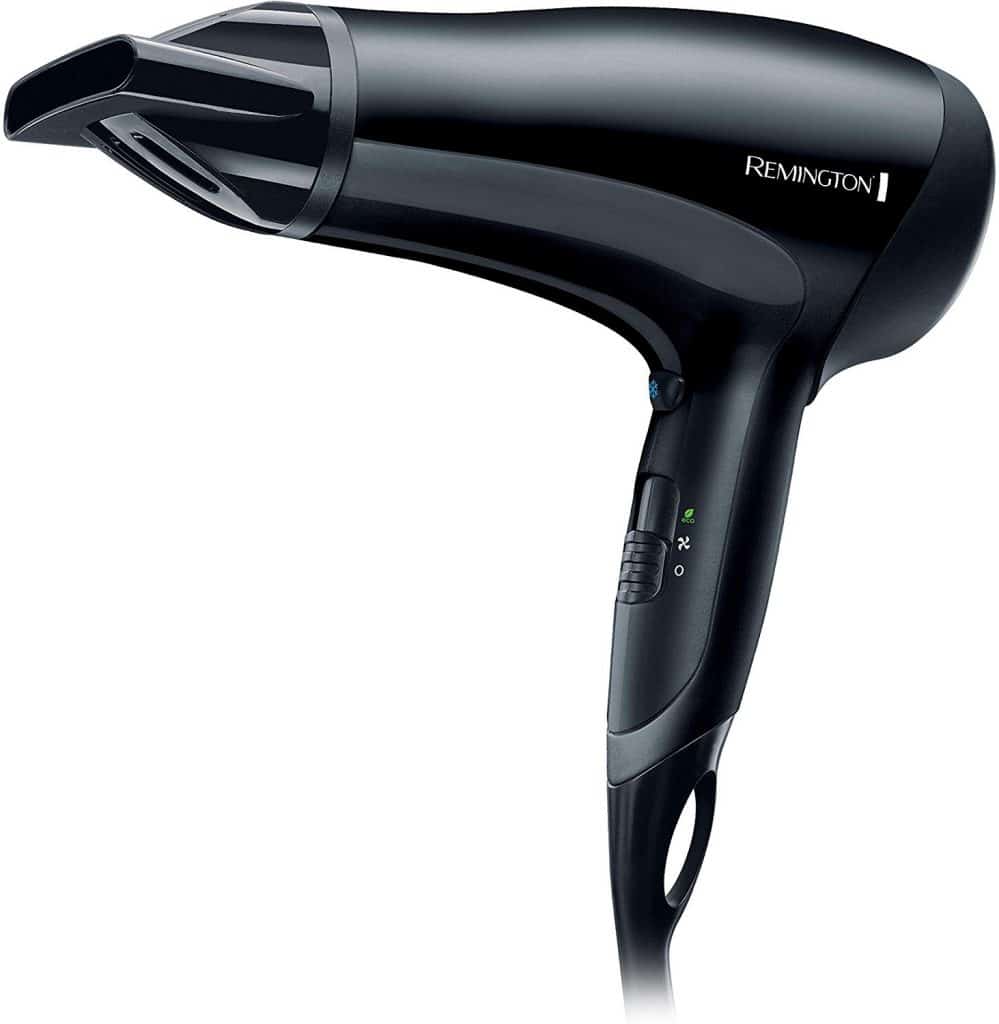 So we can confidently say that the Remington Hydraluxe Pro gets far more right than it does wrong. We are going to break the final verdict down to its pros and cons for easy reference.
Pros – So as we said above, the Hydraluxe Pro hair dryer is marketed as having every feature you require but also targeting anyone who is having issues with dry or damaged hair. We are happy to say that the new HYDRAcare Sensor Technology is one of the best features for controlling heat build up we have ever seen in a hair dryer. Perfect for sensitive scalps and dry/fine hair problems. On its highest settings you should be looking to have your hair fully dried in under 4 minutes. This is great as the less amount of time you have any sort of heat on damaged hair the better. Other good features include its 3 meter power cable, cool shot setting, 2 nozzles and a diffuser as standard plus the cleanable filter located at the rear of the main barrel. Something you should also not forget to do is go to the Remington website and register the device within 28 days after purchase. This is simple to do and will give you an extra 1 year on your warranty. It explains how to do it in the instruction manual if you are unsure.
Cons – So there are 2 things we have to mention about the Hydraluxe Pro. First is its size/weight. This hair dryer comes in at just over 800g. You will notice it the first few times you use it but you will quickly get used to it if you have no health issues. If you have any health issues, especially relating to dexterity then you might wanna give this dryer a miss and try something else. Secondly is this hair dryer can be pretty noisy. We are not talking a classically trained singer hitting a high note and all the windows smashing kind of noise but it is noisier than most standard hair dryers. Its something you get used to when you expect it but the first time can catch you with surprise. Thankfully it dries hair really fast so it wont be a problem for the majority of buyers.