You may not know this but Babyliss actually currently have 3 different Travel Hair Dryers on the market. The Travel 2000w in the image above is the one we are reviewing today and it is by far the biggest selling and most popular of the three. Then you also have the Babyliss Travel Pro and the Babyliss Travel Nano. After we give the final verdict on the Travel 2000w we will also give our quick review of the other two in regards to what differences they have compared to the main dryer. Lets dive in.
So we would describe the Babyliss 2000w travel hair dryer as a good cheap purchase that most buyers will be happy enough with. Although its a bit basic, the 2000w dries hair pretty quickly and its small and light enough to fit in your suitcase. Price wise you should be picking this up for well under £20 so its darn cheap. At the price you have to expect some cut backs and here the lack of cool shot button might put some people off. The voltage changing screw can be annoying to change. Our recommendation is to use your tweezers as this worked fine for us. Read on for the full in depth review.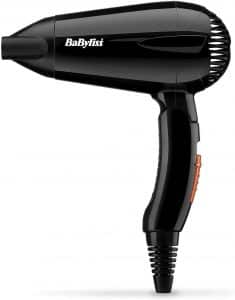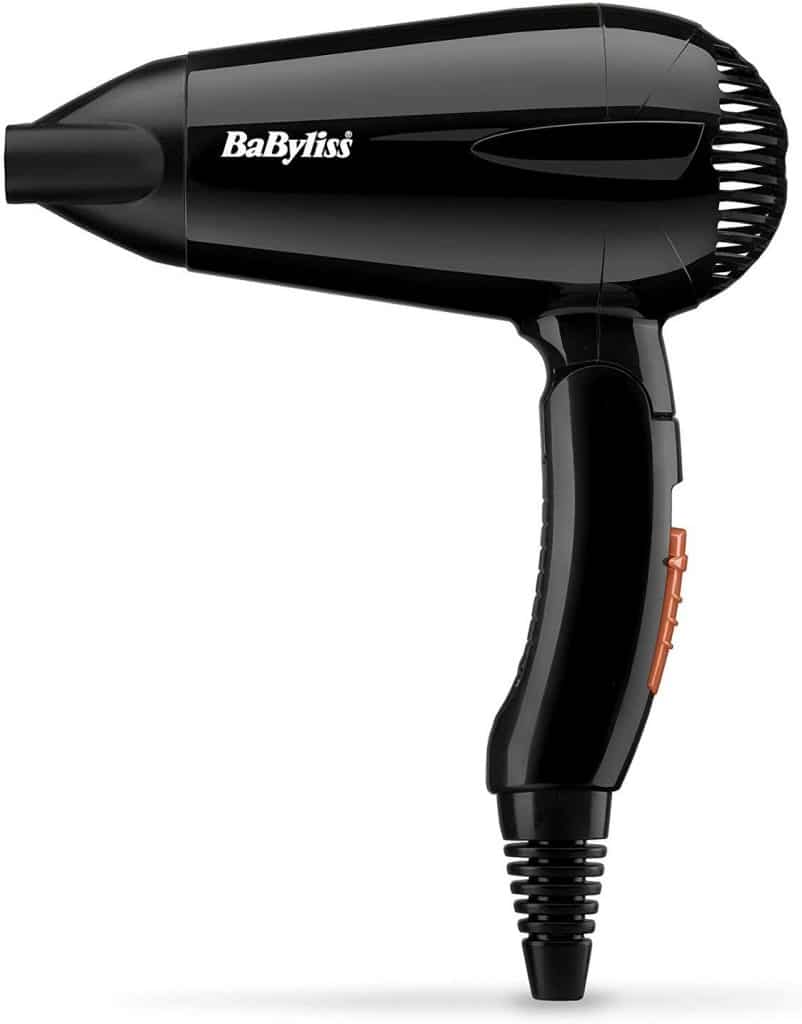 Babyliss 2000w Travel Hair Dryer
Babyliss are still a massive worldwide brand and most people have heard of them in one way or another. They have actually been making hair care products for well over 50 years now. As we mentioned above, they currently have 3 travel hair dryers available so its pretty clear they are aiming for a big chunk of this market. We honestly didnt know just how big the travel hair dryer market was until we really had a look. It is absolutely huge. Guess we are not the only ones that tend to find most hotel provided dryers pretty useless then.
The Babyliss 2000w travel hair dryer is definitely aimed at folk that want a cheap hair dryer that works better than the hair dryer they will find in their hotel. Most people will also be looking at the actual size and weight of the travel hair dryer as they want to make sure they have room for it in their highly crammed suitcase. 
Inside the box you will find the travel 2000w hair dryer, included nozzle and instructions manual. Apparently there used to be a small travel bag that was included with this dryer. We do not know when Babyliss removed this item but as of 2020 it is NOT included. Who knows whether they will introduce it again but we wanted to address it as we have seen some confusion about it online.
So as you would expect from a low priced hair dryer like this, its pretty standard stuff but we will list all of them here.
We have also got the exact size dimensions so you know if you have space in your suitcase:
Height x Length x depth
251mm x 192mm x 82mm (Dryer unfolded).
122mm x 192mm x 82mm (Dryer folded)
When we review a product here at Ehaircare we always like to try and point you towards some similar alternatives that may have slight differences to the main product we are reviewing. In the case of the Babyliss 2000w travel hair dryer, we feel its a little bit basic so we have list 3 alternatives that have more features below.
So it is very easy to see how the Babyliss Travel 2000 has been the highest selling travel hair dryer in the UK for a few years now. For something that costs well under £20 you do get really good value for the price. The dryer has enough power for most people and is certainly lightweight and small enough to not cause you any issues when it comes to your suitcase storage. Changing the voltage can be a bit fiddly but gets easier the more you do it. A lack of cool shot may be problematic for some people but going by its sales, its not putting many people off.
Babyliss really have hit the sweet spot when it comes to a lot of folk that just want a cheap and small travel dryer that gets the job done with no fuss. You only use a travel hair dryer a few times per year so why spend a lot of money on it?.That is clearly what Babyliss were thinking when they were making this dryer. If you just want something that is efficient and cheap then this is a great purchase for your travels.
So as we said at the start of this article, Babyliss also have a further two travel hair dryers on the market in the Pro & Nano. We are just gonna give yous a quick summary of each one, starting with the Travel Pro.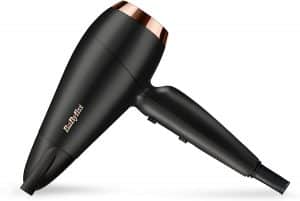 So the Babyliss Travel Pro is the companies higher end travel hair dryer that has more features and more power. It retails at around £40 at time of writing this and you can probably pick it up a bit cheaper if your lucky. Here are its features:
Salon AC powered 1600w Motor
2 heat/speed settings with cool shot button
 Ionic & Ceramic technology for frizz control
Weighs 580g
Slim Nozzle included
2.5 meter power cable
3 year manufacturers guarantee
So we found the Travel Pro to have a couple of possible bad points and a lot of very good points. We are gonna start with the positives. The power of this dryer is very good considering its for travelling. Far superior to anything you will find supplied in any hotels. Because it is using a Salon Quality AC motor, this 1600w model is more powerful than a standard motor you will find in things like the Travel 2000w above. There are 2 power settings that work pretty well. The lowest setting of speed and heat is what most folk will probably use. The cool setting is also another plus as it actually does produce a cold air flow rather than some travel hair dryers that's cool button just produces less warm air than the normal settings. Its best feature though is its Ionic & Ceramic technology that helps keep your hair from going frizzy. We all know that when you are in a warmer climate it can cause havoc with your hair. It sometimes looks like you have been rubbing a balloon over your head for half an hour before leaving your room. The Babyliss Travel Pro is one of the best hair dryers we have reviewed for  getting frizz under control in these circumstances hands down. Throw in a good sized 2.5 meter power cable and a 3 year warranty and you keep ticking all the right boxes.
As far as the negatives go we should probably start on the fact that this hair dryer does not have a folding handle. Its kind of an odd design decision when you consider the fact that people will be looking for it to be as compact as possible. The dryer is smaller than a standard home dryer but not by much. Another thing you should be aware of is its weight. The standard Babyliss Travel we reviewed above weighed 427 grams. This Travel Pro model comes in at 580 grams. That's around the weight of most standard hair dryers. Whether any of these 2 issues are a deal breaker will depend entirely on you. If they are not then this is a brilliant travel hair dryer and one of the best currently on the market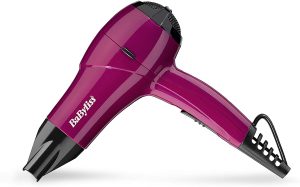 So straight away we will say that the Babyliss Travel Nano is very similar to the Babyliss Travel 2000w that we reviewed at the beginning of this article. First difference to point out though is that the Nano does not fold like the Travel Pro. Its a very odd design choice considering we do not see any reason preventing it. The other 2 differences compared to the Travel 2000w are the weight and the wattage. This Nano weighs 330g where as the Travel 2000w weighs 427g. This Nano has a 1200w motor where as the Travel 2000w has a 2000w motor. Babyliss have basically sacrificed a bit of power to lower the weight around 100g compared the Travel 2000w. You honestly cant go wrong buying any of these 2 and they are even the same price. As we said, they are very similar.